 DocScanner S Free Edition Now Available
DocScanner S has just been released for Android in a free version for everyone to try. It's actually been available for some time now in a premium version which only costs $3.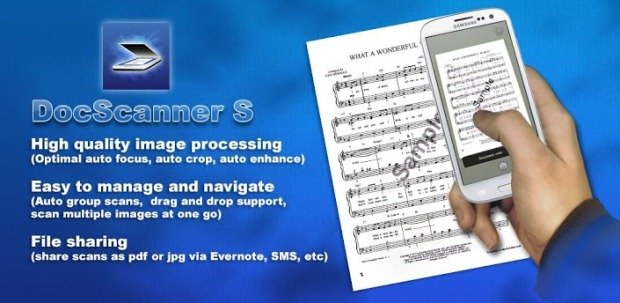 The free version includes all of the same features as the paid version, there are positively no restrictions. That means you have the opportunity to try out all the features of DocScanner Pro for free. The only exception is that created images are adorned with a watermark in the free version, this is clearly removed in the premium app.
DocScanner S essentially captures an image (scans) of a physical document and then converts it into a high quality JPG or PDF for digital viewing. It then enhances the scan in order to improve the image quality and clarity.
Once the file has been scanned, and saved, it can then be exported through various file hosting services like Evernote, Google Drive, Dropbox and more. If you would much rather share the document via social networks, or email it to a contact, then you can do that, as well.
If some images are related, or multiple images comprise one document, you can group them together. The ability to cluster documents is much better for organizing, especially when you have lots of scans.
DocScanner S is ideal for preserving business documents, but personally I use it for school. When I'm done taking notes, or when my professor gives us a handout, I scan the document so that I have a digital copy. It helps tremendously because I'm always misplacing things.
Generally, with scanner apps like this the image quality comes into question but I've never run into any issues. There is a realtime preview of the scan available, before you actually complete one. This lets you determine if the final scan is going to come out appropriately.
Regardless, the point here is that the free edition is now available. If you'd like to give DocScanner S a shot, hit up the Google Play store. You can always upgrade to the premium version, at any time, should you decide to get rid of those watermarks.