DocumentsToGo Full Version Key: is it worth 15 dollars?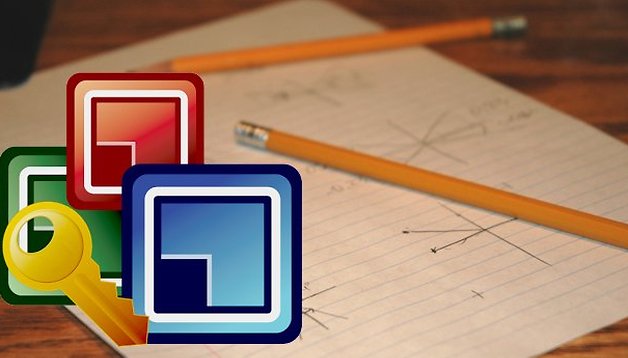 For today's app test review, we've taken a closer look at the "DocumentsToGo Full Version Key" in order to see if it's worth the investment. This app supports Word, Excel and PowerPoint files, which I already think is great, so let's see if there are other reasons why it really is worth $15 of your hard-earned cash.
Good
✓

Simple editing capability for Word, Excel and PowerPoint files.

✓

Google Docs support

✓

At just $15 US, this is a fair price
Bad
✕

Free formats like .odf aren't possible

✕

Not optimized for tablets

✕

Registering for Google Docs with two-step verification wasn't possible.
| | | | | | |
| --- | --- | --- | --- | --- | --- |
| Reviewed on | Android version | Root | Modifications | Reviewed version | Latest version |
| Google Nexus 7 | 4.3 | Yes | Custom ROM | 3.001 | Varies with device |
Features & Use
When you launch the app you will first need to accept the permissions. This main application is free of charge and presents the basics for the entire office package. To use the full functionality you need to first buy and download the "Full Version Key" in order to activate the rest of the functions. The paid version is also free of advertising.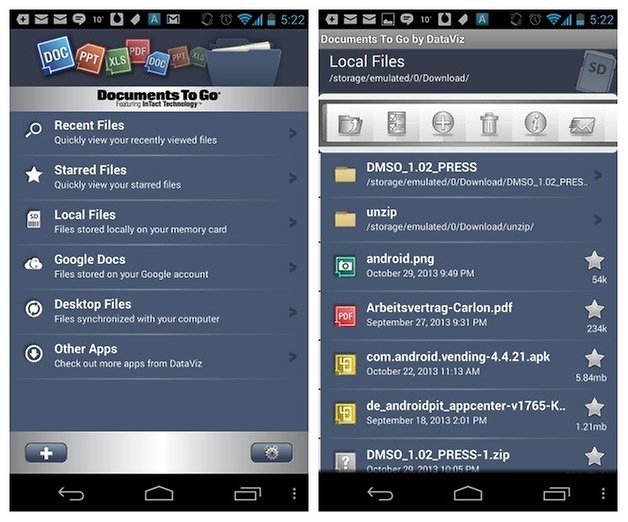 On the main page you can find the following options:
Recent Files
These are displayed in chronological order with the most recently opened files first, displayed with a small file type icon, the last modified date as well as the size and "Starred" status. The top tool bar comes with multiple selections to manage these, like delete, send, sorting options and more.
Local Files
This is a normal file explorer with the usual functions except for creating folders. New documents can be created though.
Desktop Files
The DocumentsToGo app allows you to sync with your desktop. A program must first be installed on your computer in order to allow for synchronization via a USB cable. This will make sure that you always have the necessary details in the most current form at your disposal.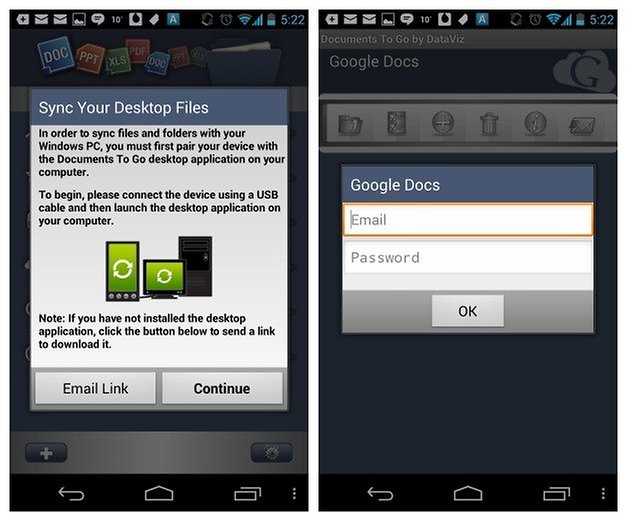 Starred Files
As mentioned in the first point, there is a feature which allows you to "star" files. In this category, you will find all the files you have "Starred," which is quite helpful for finding important documents or favorites quickly.
Google Docs
A very practical feature is the cloud storage folder for Google Docs, which gives you easy access to all the files from your own account to then edit and save. Unfortunately, the link didn't work with one of my accounts due to the two-step verification. Dropbox support would have been handy in addition to Google Docs.
Other Apps
Here you can purchase additional features such as "RoadSync," a function to launch synchronization with the Microsoft Exchange Server, or the password manager Passwords Plus.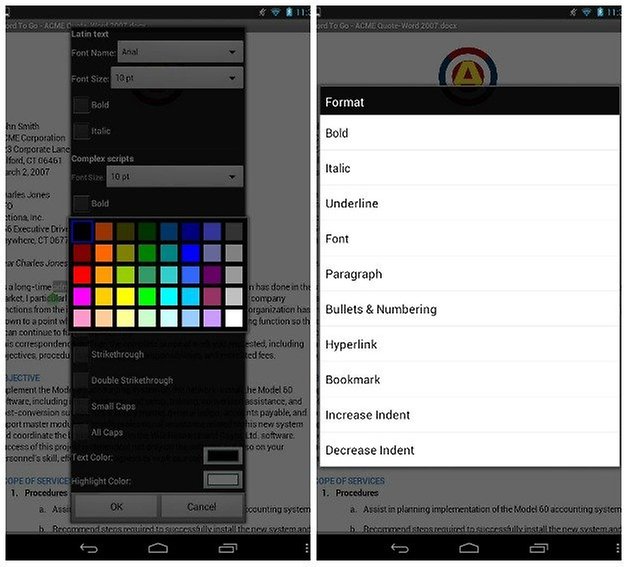 Word
"DocumentsToGo Full Version Key," as well as the free version, support the three standard Microsoft Office programs. In Word, you can open the old .doc format as well as .docx files. When testing this section out, editing and saving texts worked well, though text formatting and design was somewhat cumbersome. Instead of using a tool bar, you need to return to the menu to retrieve the formatting options, which on a long editing job will be quite uncomfortable to use. The side view is also missing.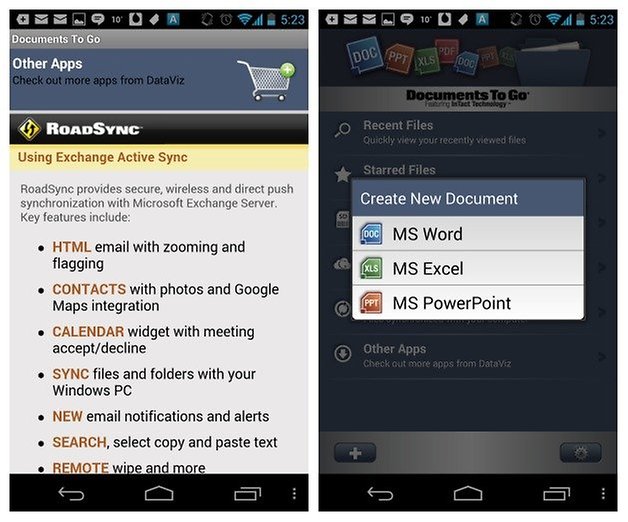 Excel
The app can also open, edit and save Excel files and it's also convenient that it can manage formulas as well as diagrams (show only) and spreadsheets. Processing, editing and saving Excel files can also be done easily since all the necessary functions are included.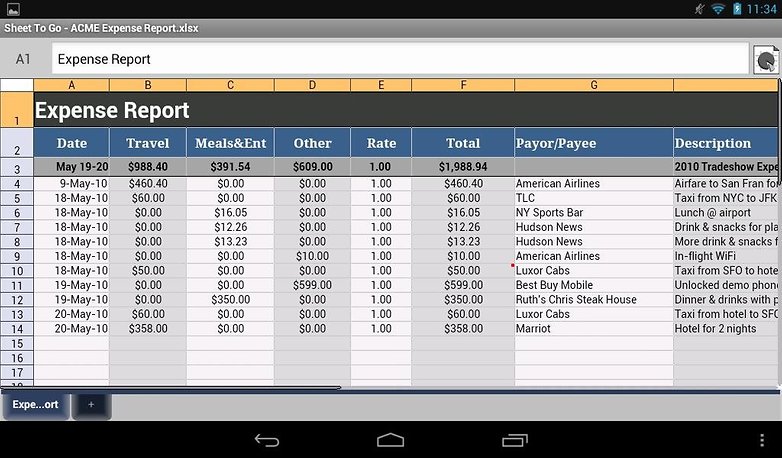 PowerPoint
PowerPoint has full compatibility with "DocumentsToGo Full Version Key." The process of creating slides was sort of unusual, but after fiddling around with the app, it ended up working fine. However, I noticed that when an app-created presentation was shown on PC, the text was too high and was often cut off. There is no proper presentation mode, so both the lower and the upper bar of the app are displayed, which is unfavorable when a PowerPoint presentation is being shown with a projector.
The app has all the functions necessary to easily and quickly edit and save Excel, Word and Powerpoint files, however it's not really made for completing elaborate and complex changes to files. Sending the files directly via email is a very convenient feature which you can perform without even having to make a detour to another file explorer.
Screen & Controls
Though the "DocumentsToGo Full Version Key ' is adequate, it's not outstanding. There's not much to complain about in terms of controls, apart from a few details as described above (lack of toolbars, formatting and editing options require more than one step to access).
Speed & Stability
Both the speed and the stability of "DocumentsToGo Full Version Key" leave nothing to complain about. Though the app crashed once or twice initially, I couldn't reconstruct this occurrence later on.
Price/Performance Ratio
The "DocumentsToGo 3.0 Main App" is available for free, however it is quite stripped down and can only open the files without being able to edit them. Nevertheless there are a few useful features from the paid version in the free one, such as Google Docs support and desktop sync. "DocumentsToGo Full Version Key" costs $15.27 US and for a complete office package, this is about an average price.
Final verdict
"DocumentsToGo Full Version Key" is an office suite for Android which allows you to open and edit Word, Excel and PowerPoint files. Except for a few missing features, like the lack of Dropbox connectivity and formats such as .odf, the app serves its purpose well in offering quick editing and saving options for office suite files.