Dolphin Engine Claims It's the Fastest Browser for Android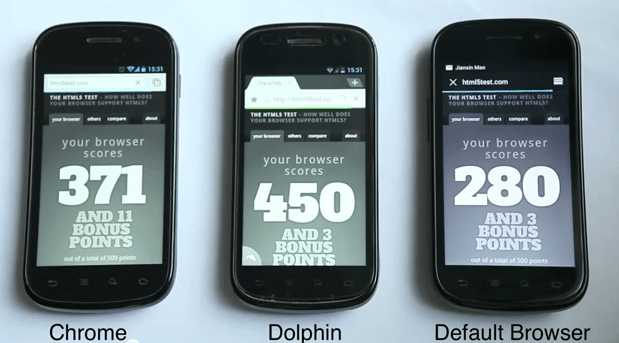 Dolphin is claiming their latest browser – called Engine or Dolphin Browser HD – is the fastest around. The company is claiming the browser is 5 to 10 times faster than the default Android browser and twice as fast as Chrome. Is it worth the switch? Read on to find out.
The new Dolphin Browser has been improved in a bunch of categories like canvas elements, 2D context and text rendering, leading to a fast and smooth browsing experience. According to the site HTML5Test, it is, indeed, the fastest browser around (HTML5 being the next big markup language for developers).
In the Verge's tests, the Dolphin Browser HD was fastest to load the New York Times and the Verge, but stuttered when loading CNN (stock browser beat it by a full 3 seconds). In AndroidPIT's own tests, it loaded Facebook and Youtube commendably fast, but had trouble with Youtube video playback (controls kept flashing on and off). Some of Google's properties didn't look quite as elegant on its interface as they do on Chrome, including YouTube.
That said, Dolphin HD is, indeed, quite fast, and while Chrome is only available on ICS, Dolphin HD is available on any smartphone running Android 2.0.1 or higher. You can download and test the APK for yourself via Dolphin Browser's blog.