 Infographic: How "Draw Something" Blew Up the Universe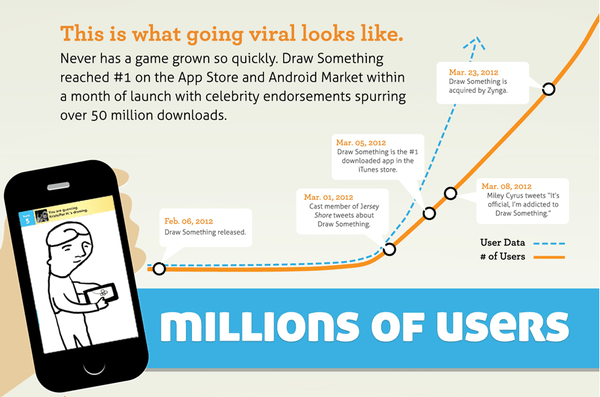 If you're reading this sentence, there's a one in 5 chance you've played Draw Something. How do I know? Because you are a human being who knows how to use technology. That's how popular this app has become. Way, way, WAY back in February 2012, a little app called Draw Something by the small NYC firm OMGPOP was released. Within 2 weeks, that little app had over 1 million users. By week 6, it had 11 million users. The rest is history.
In this infographic, you can see how this little app went totally viral. Was it the celebrity endorsements by Miley Cyrus and cast members of the Jersey Shore? Or was it the fact that the app rekindled our childhood love of doodling? Most likely, Draw Something's incredible success was a combination of these factors and more, especially given how the app's social aspect linked long-lost friends together for a doodle session.
What's less clear is whether or not Draw Something has a chance of sticking around. Like "Words with Friends," the app could end up being a flash in the pan. But that's no problem for the developers; they've already managed to net $200 million from Zynga. Take a look at the incredible rise of Draw Something below: