Draw Something Fans Outraged Over New App Permissions An update to Draw Something – a super popular doodle-guessing game– has many fans outraged. The app now asks for permission to read AND send SMS messages, with no explanation given as to why.
At this point, we don't know what's going on with these permissions or why they've been added, although we've reached out to developers OMGPOP and Zynga for an explanation. Zynga, as many of you already know, purchased the development team behind Draw Something for a cool $200 million two months ago.
There's no discernable reason for Draw Something to need to read text messages or send 'em in order to operate since it doesn't need to access them in order to work. Other Zynga apps, like Dream Heights, don't ask for these kinds of permissions.
Since being bought by Zynga, Draw Something has only been updated once, yesterday. The new update brings commenting to drawings, but also this rather unpleasant new app permission. Already, upset owners have begun posting 1 star reviews of the app on its Google Play page.
Google warns potential downloaders that apps that need access to your text messages may end up maliciously sending messages without your confirmation or monitor your communications.
Update:
According to Forbes Magazine, Draw Something has been losing 5 million users a month since being bought by Zynga. Still, for the nearly ten million who still play the game, this latest update has got to be upsetting.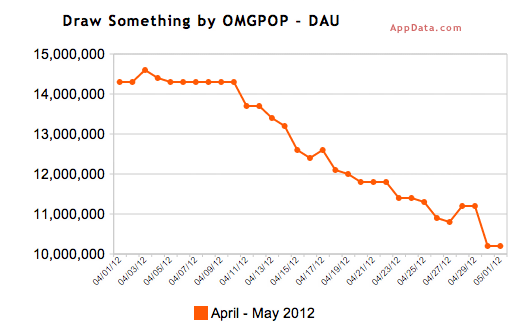 (Graph: Forbes.com)