Motorola Droid RAZR & Droid RAZR MAXX Gets Android 4.1 Jelly Bean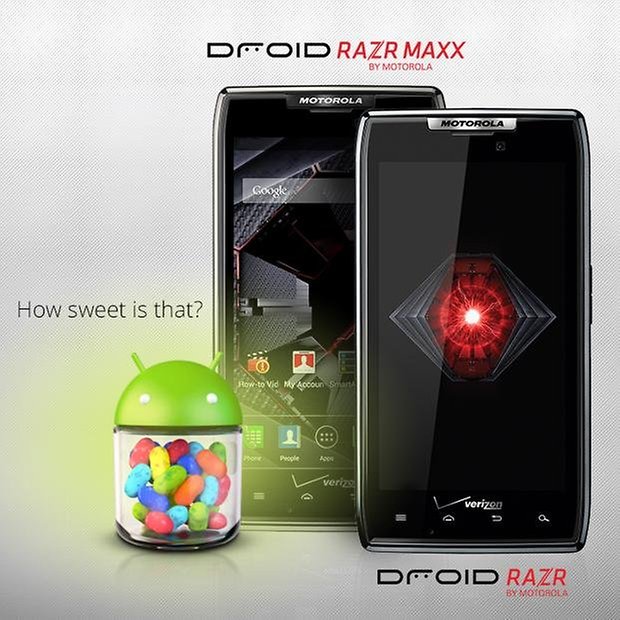 If you happen to own either the Droid RAZR or Droid RAZR MAXX from Motorola, this bit of news ought to perk you up. Both handsets have finally received the Android 4.1 Jelly Bean update, albeit the rollout is happening in phases. Thanks to Android 4.1 Jelly Bean, you will be able to enjoy features such as Google Now, Voice Search and expanded notifications, among others.
This has been a long time in coming actually, and with the Android 4.1 Jelly Bean update, your Droid RAZR and Droid RAZR MAXX would make you feel as though you were using a totally new phone, giving both handsets a new lease of life.

Just to recap, what are some of the goodies that Android 4.1 Jelly Bean has on offer? For starters, Google Now would make life a whole lot easier to manage and keep track of, as you can receive notifications that are generated automatically and in real-time, as though your Droid RAZR and RAZR MAXX have extra sensory perception, sending bits of sports scores, stock updates, weather reports and traffic updates as you kick off the day on the right footing.

Expanded Notifications cuts down on the unnecessary baggage, making it a snap to call or text someone back straight from the missed call notification display. As for Voice Search, let your mouth do the hard work as you speak a query to receive a spoken response or search results which reply to your query.
Have you given the Android 4.1 Jelly Bean update a go yet for either handset?