Dryft: a new way to type on tablets Let's face it: Tablets are extremely popular and more people are continuing to jump on the tablet bandwagon. However, one of the biggest issues with tablets is how awkward they are to type on given their size and design. One of the co-founders of Swype is trying to solve that problem with the advent of Dryft, a new keyboard that pops up automatically and adjusts your own hand position. Randy Marsden and Rob Chaplinsky are hoping at reinventing tablet typing with their latest stab at an Android keyboard.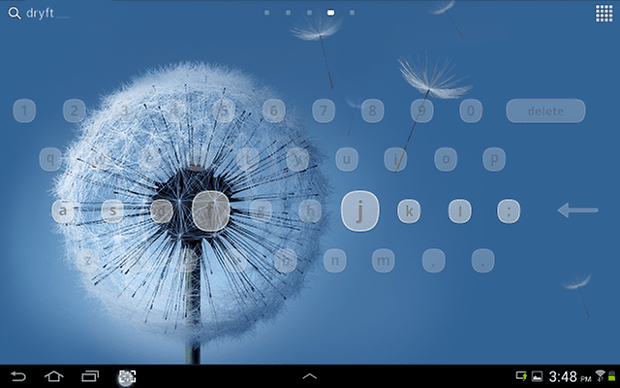 Marsden has explained that his motivation behind Dryft was that he found more tablet users wanting to use their device to create creative content, but were getting frustrated with the typing experience. In fact, he saw many users relying on a Bluetooth keyboard to try and solve this problem but saw it as a more cop out method of dealing with a larger problem with tablets.
Enter Dryft into the mix. Instead of forcing users to try and get used to the standard keyboard and layout that came with their tablet, the Dryft keyboard appears on the screen only when users place their fingers on the screen. As such, the keyboard follows your finger placement and once your fingers have settled into a resting position, the home row keys appear under them and the rest of the keyboard around.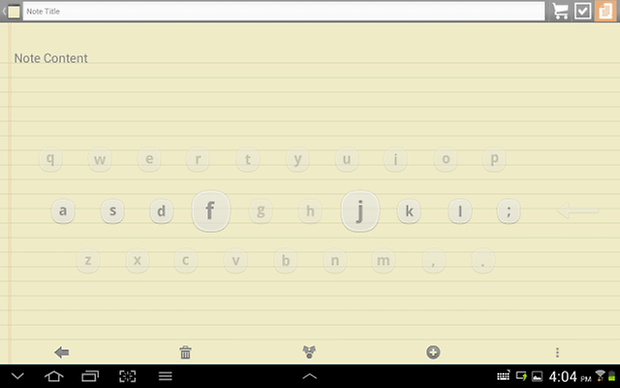 Thanks to a dual sensor approach, Dryft can bring some real innovation to tablet typing using a tablet's accelerometer to measure the sensitivity of your finger touch and figure out whether you meant to actually hit a certain key on the keyboard or if you're just resting your fingers. However, as Marsden has put it, getting widespread integration of this type of keyboard into tablets will require the buy-in of hardware manufacturers and OEMs.
The plans for Dryft are pretty ambitious, hoping to create a new keyboard standard for tablets and if there is one person who most likely will be able to do it, it would be Randy Marsden. Already having succeeded in getting companies and hardware manufacturers alike to buy into his Swype keyboard, his next step is to bring Dryft to the same playing field.
While Dryft isn't yet available as an app to be tried and tested, you can
Other keyboard concepts
Swype
As stated above, Swype is also from Randy Marsden and is pretty ubiquitous when it comes to Android keyboards. Text input is realized by drawing a line in the order of the word that you're trying to "type" and Swype figures it out for you. While it does have a bit of a learning curve to it, it can be mastered easily and has an auto-learning feature. One of the downsides of Swypehow is that the visual keyboard overlays the bottom of the screen and takes up a bunch of space.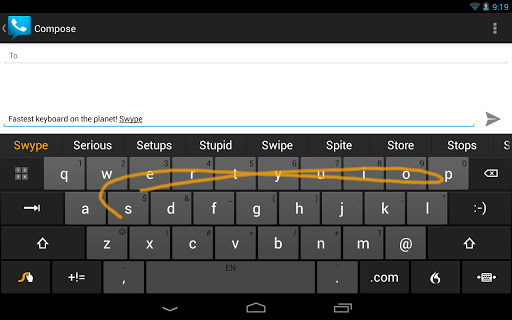 Minuum
Minuum offers a different approach. Instead of using a standard QWERTY layout, you're presented with a line of relatively small keys in a single line which frees up a bit more space. This is particularly handy on smartphones and other devices with smaller screens, but does require a bit getting used to from a QWERTY keyboard. Complimented with a pretty good autocorrect algorithm, Minuum is definitely worth checking out if you're concerned about the amount of space that your keyboard takes up on your screen. As of the time of writing, Minuum is still in the beta stages but can be grabbed at the Google Play Store.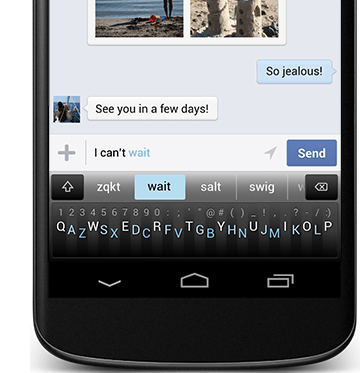 Thumb Keyboard
Designed specifically for tablets is Thumb keyboard. This is a special keyboard layout in which the characters of the keyboard wander to the edge of the screen and you can hold the device in both hands and use your thumbs to type. As with most other keyboards, one of the drawbacks is that it does take up a bunch of space on the side of your screen and you thumb typing may feel completely foreign to you at first.