Duolingo Review: Never Thought I'd Enjoy Learning German Grammar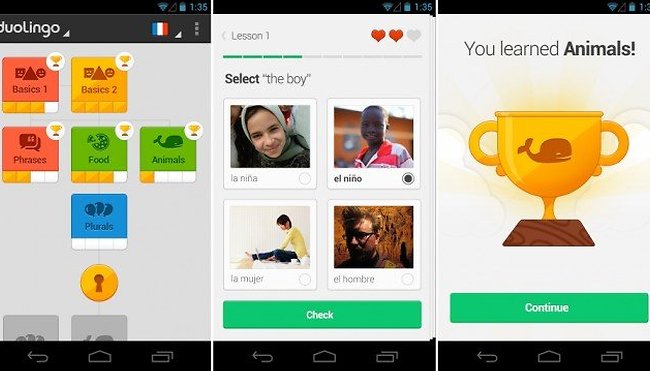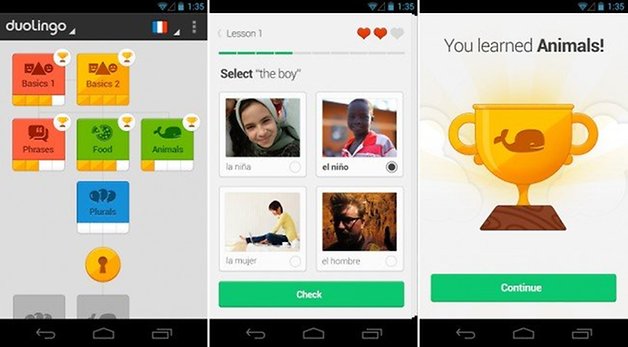 I've been living in Germany for three years but, as my world is composed mainly of fellow expats, sometimes I feel like I'm in an American outpost in a foreign country. Because my interactions in German are limited, it's useful for me to brush up on my language skills every once in a while. So, of course, I was thrilled when I learned that Duolingo – what's been called "the best free language-learning app" by the Wall Street Journal – had made its way to Android. I've learned languages in school and briefly online; how would this new service compare? Most importantly, how would it tackle the hell that is German grammar?
How Does it Work?
Duolingo strengthens language acquisition by guiding you – the user– through a series of exercises. Sometimes you have to translate a small passage, other times you have to listen to a recorded sentence and type what you hear. There are also picture exercise, fill in the blanks, and drag and drop exercises where you complete a sentence utilizing a pool of given words.
Is it Effective?
Duolingo's exercises don't take very long to complete – which makes them quite addictive. You might, for example, translate a short sentence from German to English or vice versa. For every set of questions, you are allowed around three to four wrong answers. If you go above that, you automatically fail the lesson and must try again. This sounds annoying but it's actually brilliant – by forcing yo to go through an exercise a second time, Duolingo strengthens your skill sets.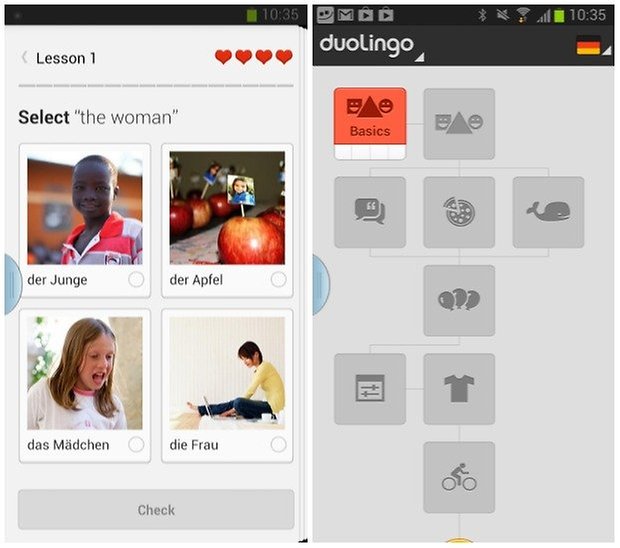 What Needs Work?
Occasionally DuoLingo will ask a question that makes no sense or will fail to provide the correct pool of words in order to complete a sentence. There are discussion threads online that you can add to if you feel a lesson needs tweaking. It can also be frustrating if you're at a very high level and want to skip many lessons at once. While Duolingo allows you to "test out" of every level (just click on the padlock icon), it could be a hassle for very advanced users to take test after test just to reach the level in which they're proficient. Also, you can only learn a few languages right now: German, French, Spanish, Italian or Portuguese.
How Is it Free?
Duolingo thinks of their potential users as a giant pool of untapped labor. As you learn, you are given real world examples of the language you're learning: news articles, snippets from books, etc. You translate them basked on your skill level, and once a certain passage is adequately crowd-translated, the app developers receive money for the proper translation. Thus, you get to use the app for free, and the developers get paid the more you use it. It's a win-win!
Bottom Line:
While I haven't yet used Duolingo to learn an entirely new language, I did find it extremely helpful for brushing up on my German language skills. In less than half an hour, I learned a few pieces of grammar I'd fogotten about. That's the thing: German grammar is (to me) so incredibly frustrating that any app that makes it even mildly fun is like the holy grail of language apps. I can't believe how quickly the time passed by while I was using this app.
You can download Duolingo from Google Play right here.