Interview with Creators of App ''ecotastic'': Rewards for Green Habits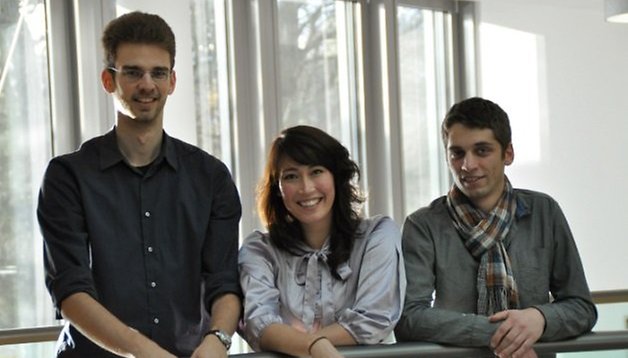 Let's get up close and personal with Fabian, Anna and Ralf who surely have their hearts in the right place. The young start-up company and their app idea ''ecostastic'' help the user become more environmentally friendly. Some say that technology and the environment are two complete opposites but this crew proves us otherwise.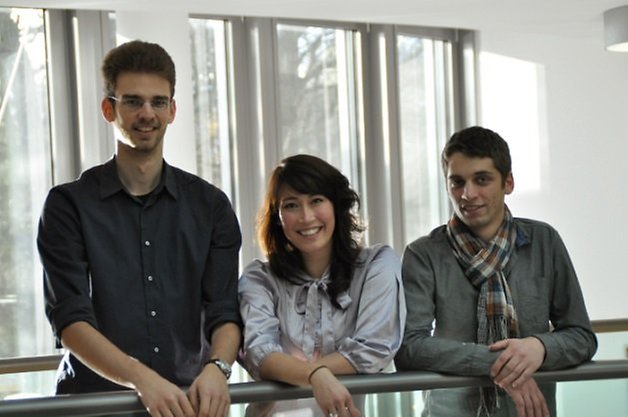 You are a small team with a big idea. Could you give us some insight into your background as well as how you came together?
Our founding team includes Anna Bickenbach Yukiko, Fabian Lindenberg and me, Ralf Gehrer. Anna studied Integrated Natural Resource Management at the Humboldt University in Berlin and is therefore our expert in sustainability. Fabian and I studied IT system Engineering together at the Hasso Plattner Institute in Potsdam which have supplied us with the technical tools to make "ecotastic" reality. The three of us also completed additional training in design at the HPI School of Design Thinking, during which we were able to internalize user-centered work and ultimately came together as a team. Since then we have been working together on creating ''ecotastic'', a rewarding system for environmentally friendly behavior.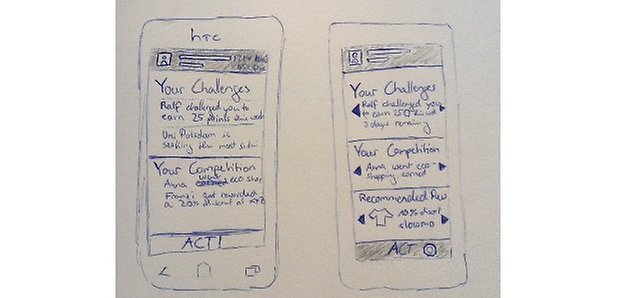 How did you came up with this idea and what drove you to develop your own Android app?
The original idea came to us during a study abroad program in California. Fabian and I observed that students who lived in a four person apartment, still drove four different vehicles on the university campus. We asked ourselves how could we create an incentive to encourage students to carpool instead or use the University shuttle bus. Then we turned our gaze onto our own behavior where we found all sorts of ways we could improve ourselves too! Because let's face it: in Germany, most people have good intentions in being environmentally conscious, but often fail to put this into practice in their daily life - be it out of habit, conveniences, cost, and so on. We want to change people's behavior with ''ecotastic''.
How do you divvy up the work? Who does what?
Anna is primarily responsible for sales and marketing as well as all matters relating to sustainability. Fabian takes the bulk of the organizational tasks of management and supports back-end development. My area of ​​responsibility is the software development, especially the development of the current ''ecotastic'' app for Android.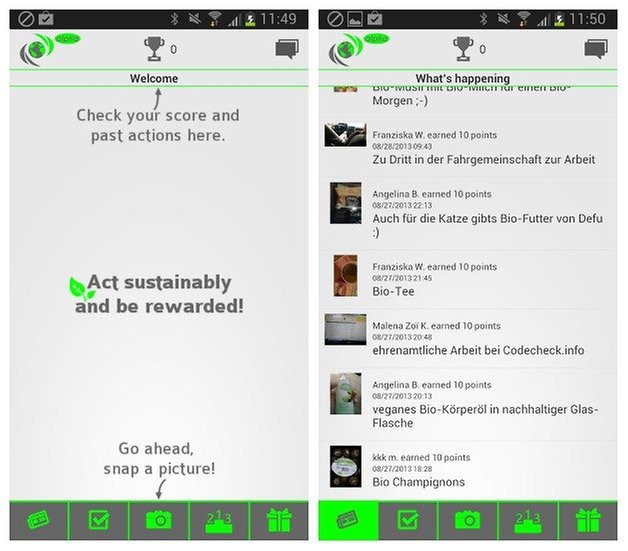 How would you best describe the basic principle behind ''ecotastic''?
"Ecotastic" is a reward system that gives individuals an incentive to live an environmentally-friendly life. Our app users shoot photos of their environmentally friendly actions and submit these together with a short description to the ''ecotastic'' user community. The other users can then vote on whether what is being presented in the photo is sustainable or not. Each accepted photo will warrant the user 10 points. Each evaluation will earn the person one point. In the "News Feed" all actions are displayed so that others can collect new ideas on how they could improve their behavior even further.
How do you come to working with these partner companies who provide the incentive coupons for your app?
Various rankings place the user into a competition. Within the app, sustainable partner companies advertize coupons which can be redeemed for earned points. "Ecotastic" brings gaming fun thanks to gamification, individual rewards from our partners and ultimately a good and happy feeling to be doing more of the environment. ''Ecotastic'' has been available in the Google Play store for about 3 months now.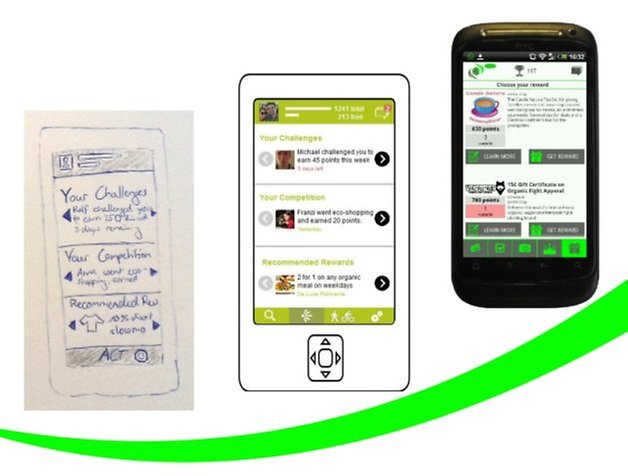 It's important that our partner companies be pursuing a sustainable goal. For example, providers of sustainable fashion like vegan shoes and sports clothes, or partners fostering co-consumption, like carsharing. Our community helps us with selection and acquisition work. ''Ecotastic'' users to send us partner company suggestions through our website and we subsequently try to win these potential partners over to ''ecotastic''. More and more interesting companies are coming into contact with us, which we really enjoy!
Do you plan on incorporating more features into your app or develop it any further? What are some future plans for ''ecotastic''?
The ''ecotastic'' App currently is still in its early phases and is continuously expanded. An important component is the gamification. We want to expand the competitive feel through rankings even further. We are also going to integrate external services such as a sustainable energy usage monitor, which would enable an automated detection of environmentally-friendly actions.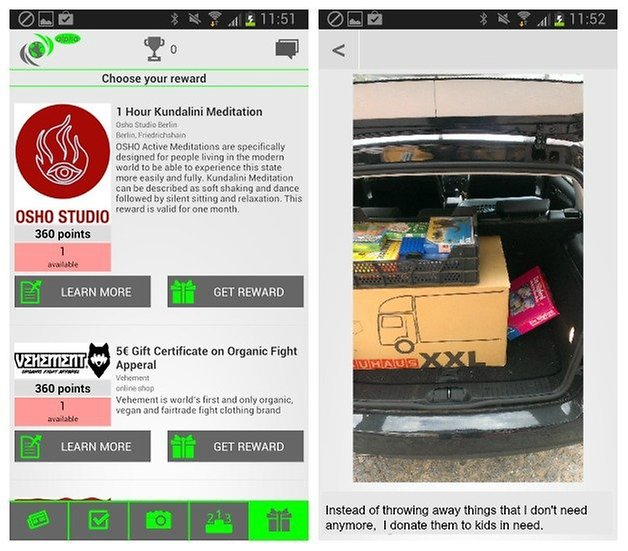 There is a continuous discussion about whether smartphones are a detriment to the environment. How do you see this differently? Do you feel as though apps like ''ecotastic'' try to make up for bad environmental implications made by apps?
It would of course be more in the interest of environmental protection not to own a smartphone. But the fact is that more and more people don't want to live without one. Therefore, we deliberately opted for a ''smartphone solution'' and against using our own hardware. As a result, we use less resources, which are available to the users anyway. In addition, there is now eco-options like the Fair Phone, which are produced under fair working conditions and are equally environmentally friendly.
What hardware and software was used for app development?
We develop on Linux with Eclipse and the Android SDK. Initially we were still working with the Android emulator. But this is simply too slow to be productive. What's more, the behavior of the app on the emulator differs from the behavior on the device. Therefore, we usually test with a HTC Desire S running on Android 2.3 and HTC One S on Android 4.2. However, before we issue a new version onto Google Play, we still need to test it on a variety of devices borrowed from family and friends.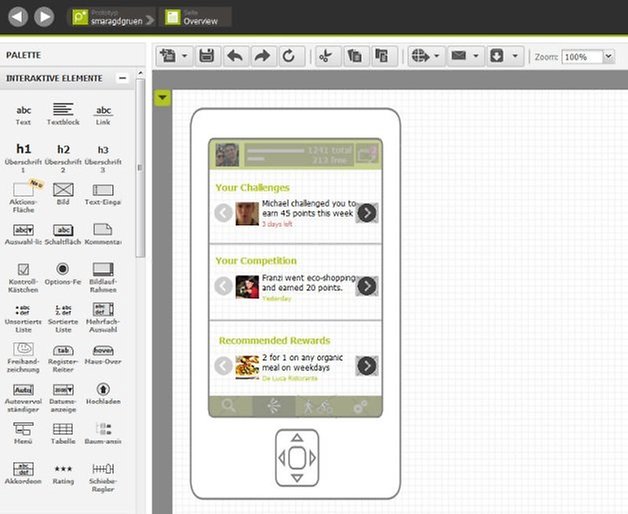 Do you have any interesting stories about developing the app or even a funny user request to share with us?
Our users have the options of commenting on sustainable actions in the ratings section. Since the function was missing for them to be able to answer to comments, our community has figured out a few workarounds: they respond to comments through new actions with an explanatory and detailed description or ask the other user to continue specific discussions on ecostastic's Facebook page. As founders of the app, it's important to receive feedback and we try, despite our limited resources, to respond to user's needs and implement changes as soon as possible.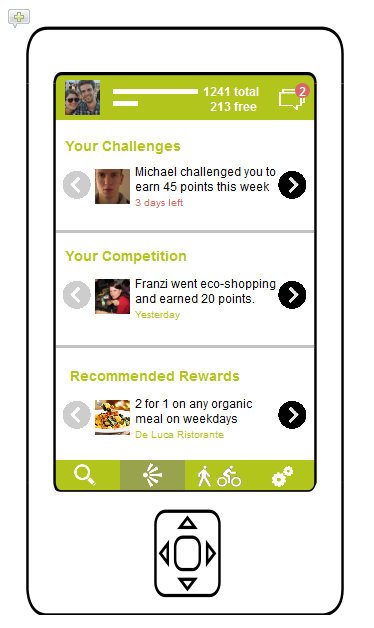 Do you know of any other apps that also use this environment protection idea?
We are big fans of WeGreen, a Sustainability Footprint for products, as well as Rank-a-Brand. Both services offer an excellent starting point to learn more about the corporate social responsibility, brands and products, even if they don't have Android app available yet. Other companies on the same track are GetNeutral and Barcoo, both already offer an Android app.
Which smartphones or tablets do you use? Or did you decide to give up private use of these devices?
Anna and Fabian each own an HTC One S. I currently satisfied with an HTC Desire S and an old version of Android. I'll pass on the update of the operating system, so that we will still have a device to test older Android versions.
Thanks for the interview and don't forget to check out our Developers forum.