 Galaxy Pocket VS. Galaxy S3
Option is the spice of life. When it comes to mobile devices very few companies give the range of choice as the Samsung Galaxy range. What better way to test that range then a comparison of the top dog, the Galaxy S3 and one of the entry level phones, the Galaxy Pocket.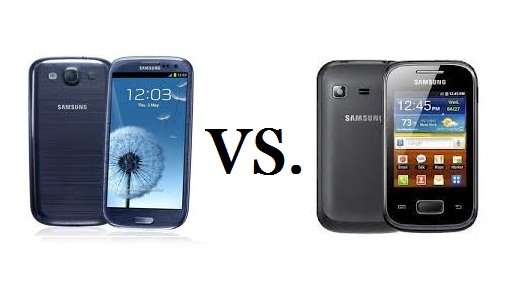 Apple and Samsung have gone for to vastly different business models in the pursuit of their mobile exploits. Apple has gone the route of here is the phone we are offering if you can't afford it well then too bad for you. Samsung have used their Galaxy range to allow customers no matter their financial situations to get their hands on a good quality smartphone.
The two mobile devices that I will be comparing are the Samsung Galaxy S3 and the Galaxy Pocket. On first view you would say that the Galaxy S3 would blow the pocket out of the water, and you would be absolutely right.
The Galaxy S3 comes with Android 4.1.1/ 4.0.4 and the Pocket Android 2.3.6. The S3's display is a 4.80 inch Super AMOLED 720 x 1280 pixels while the pocket comes with a 2.80 inch TFT 240 x 320 pixels display. The Pocket continues to be outclassed when it comes to processing power with a Single core, 832 MHz processor, while the S3 houses a Quad core, 1400 MHz, ARM Cortex-A9 processor.
Okay so technical stuff out the way it's pretty clear that the S3 and the Pocket are in two completely different classes making a comparison a bit silly. I do however think it clearly demonstrates the range of Samsung's mobile devices. Although these are devices from two opposite ends of the spectrum, the range does fill in the gaping hole in the middle nicely.
Since all comparison needs a winner, the Samsung Galaxy S3 wins this battle.
Which Galaxy do you have?