 eSfere Android Video Game Console Works With Google Play As Well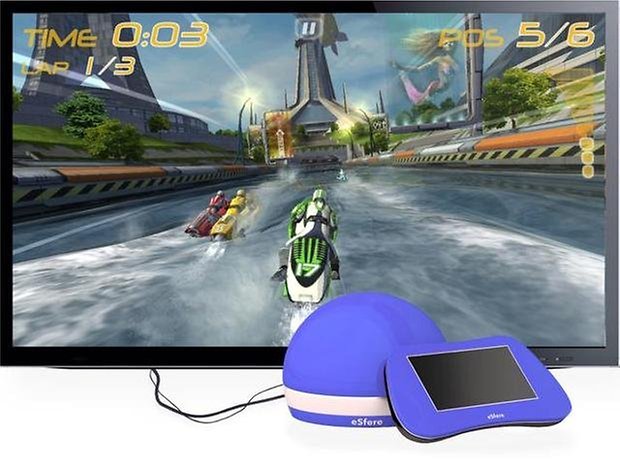 So far, Ouya has been an Android-powered home console that was sourced by crowdfunding site Kickstarter, and here we are with another potential device to disrupt the video game console market, eSfere. Yes, the spelling might be more "modern" than purists would like, but the eSfere is said to deliver power and elegance in a simple device, letting you enjoy not only Android apps but games as well as in the comfort of your living room, right there on the large screen TV.
After all, we have seen the rise of Android-powered gaming, from simple titles to far more complex ones, with some of them capable of giving handheld consoles (PS Vita and Nintendo 3DS) a run for their money, although those are few and far in between. It cannot be denied that mobile apps have turned the electronic gaming ecosystem onto a new phase.
Since the higher end Android-powered smartphones come with Full HD displays at 5" or more in size, why stop there? Gaming on an Android-powered tablet is more enjoyable, especially when you have 7" or 10" of viewing real estate, but the eSfere will take things to a totally new level by hooking up to your large screen TV.
eSfere, being an Android based video game TV console, will carry some rather impressive technical specifications with it, letting you wring out maximum satisfaction from the thousands of titles that are available on the Google Play app store. For instance, it will run on at least an NVIDIA Tegra 3 quad-core processor or better, sport 2GB RAM, 16GB of internal memory, a couple of USB ports (to hook up USB flash drives and peripherals), Bluetooth and WiFi 802.11 b/g/n connectivity, a wired Ethernet connection just in case, and HDMI connection for up to 1080p HD resolution gaming.
The eSfere will also come with a "Touch&Play" multitouch gamepad controller that has an integrated accelerometer and gyroscope, all running on Android 4.1 Jelly Bean as the operating system of choice. It would not be too much to ask that there should be an Android 4.2 (and subsequent) updates, no?
The eSfere will arrive in 7 different colors - black, white, pink, red, light blue, blue and yellow, assuming it manages to raise enough funds as an Indiegogo project. So far, it needs $390,000 by January 21st, 2013, with $99 as the minimum investment to snag an eSfere Android-powered console if things go well. There is also a Deluxe Collector's Edition for each color, but let's focus on the bare basics for now.