Everything Home Beta review: the dynamic launcher for Android We just had a little bit of a look at the Nova and Apex launchers recently and someone mentioned that we should have a look into the Everything Home launcher as well. This launcher promises to be an interface that seamlessly adapts to the user's needs and can be expanded with web applications and smart folders. Here's a quick rundown of the beta version so far.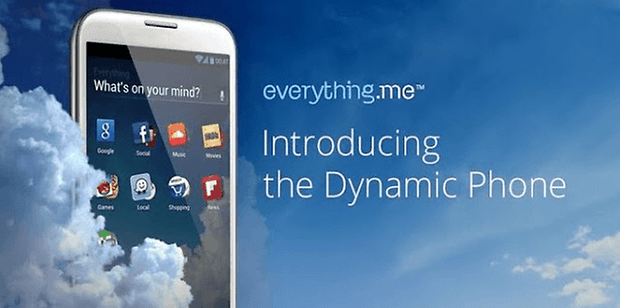 Dynamic instead of static
Just a heads-up in advance: I'm not a huge fan of dynamic home screens. Google Now and similar concepts that deliver content to me I find to be interesting, but usually forget to use it in my daily usage of my mobile device. With the Everything Home Launcher, you get a simplified Google Now search bar at the top of your home screen.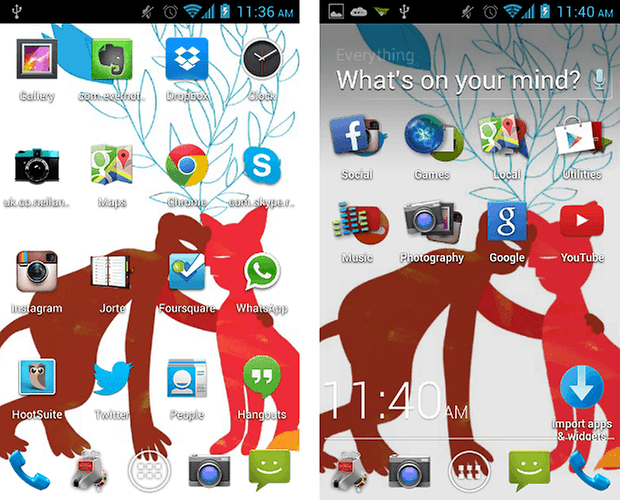 Applications can be found and indexed by just typing in the first letter and the launcher aims to bundle content thematically: the search term entered presents an appropriate background image and summarizes relevant apps together. So-called Smart Folders focus on areas such as weather information, shopping, movies, or sports. If there's something else that you want to have, you can easily create your own folder.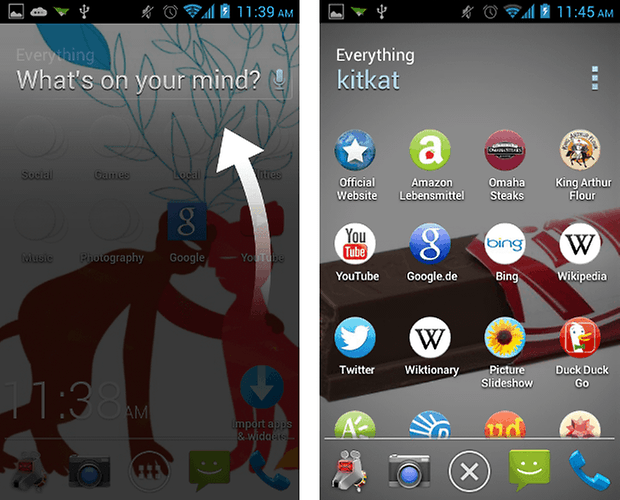 In my opinion, one of the weaknesses of the quick launcher is that the despite the really long list of permissions required by the launcher, it can not access any smartphone content and especially in some unusual search queries, the results sometimes can seem a bit hit or miss. As such, the folders work best with Google-friendly terms and fill up with both relevant applications and content.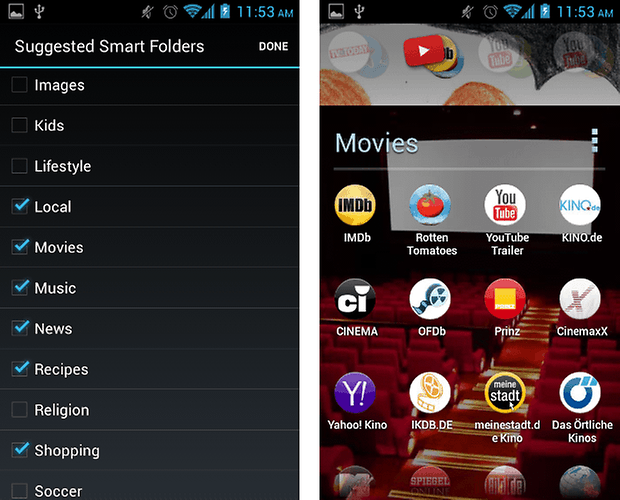 The principle of Everything Home is to be a quick and intuitive launcher, avoiding unnecessary searching. But, while it is an interesting approach to a dynamic home screen, in most cases when I pull out my smartphone I know already exactly which app I want to start or what kind of content I'm looking for online or offline. So really, this customized home screen doesn't offer much value to me in this respect.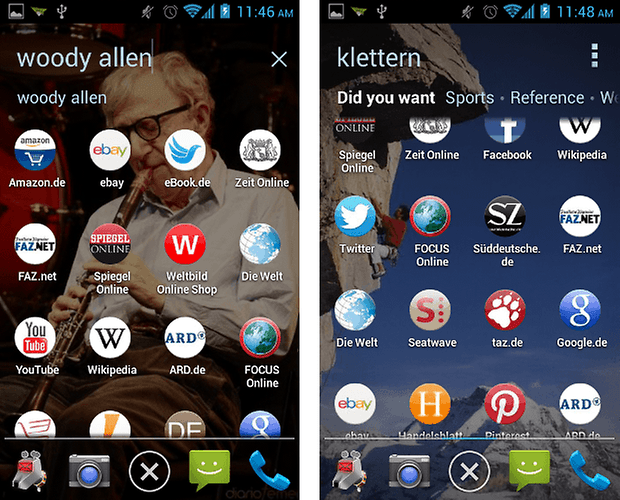 Beta – Not quite easy to install
The launcher has received a new update recently, but it is still officially still in beta. The launcher itself can be downloaded for free in Google Play. However, there are a few problems with it. Often Google Play lists the app as "not compatible with your device" as with our case when we tried to install it. Many users also report the launcher will sometimes be displayed as "not available in your country". If so, the APK can be found at the xda-developers forum. It was from that link that we managed to get the Launcher running on a device with Android 4.2.1 Jelly Bean without anymore issues.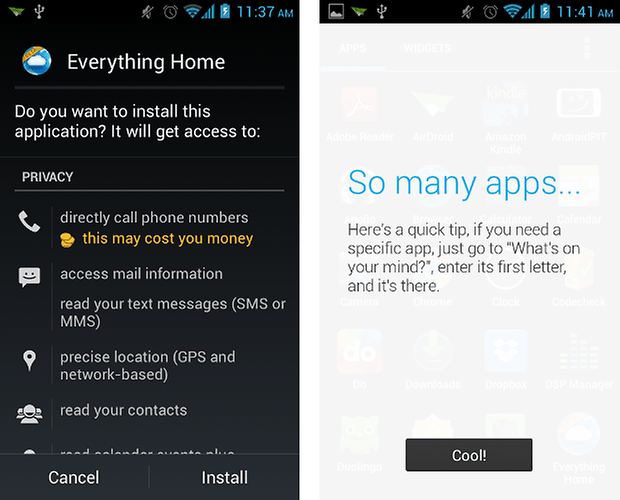 Conclusion
Everything ran smoothly when we tested out Everything Home, despite it being displayed as still in beta. The concept behind the launcher is definitely concentrated around the dynamic home screen approach, so if this is something you're looking for or really like in a launcher, it would for you. In my opinion, wasn't that useful for me, but I have different uses for my device than other people. A small advantage that I could see with this device was the if you have a ton of installed apps that you want sorted in some sort of dynamic system, this launcher would work wonders. A disadvantage is that the amount of data and long list of permissions required for the launcher is a tad bit high.