Facebook Pushes Update Outside Of Play Store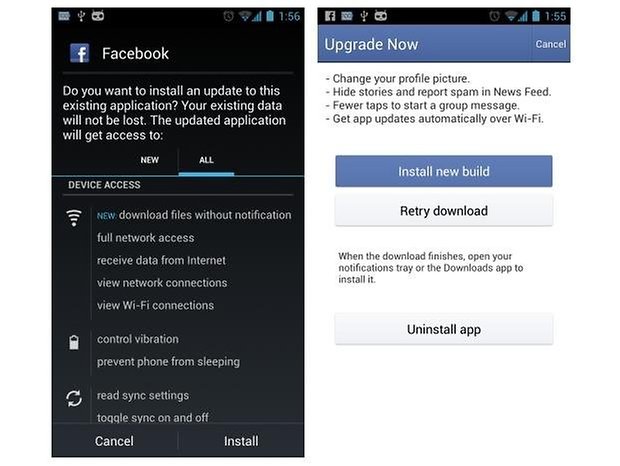 All you Android-ians, listen up! Have you seen Facebook try to prompt you to download a new Facebook for Android update (build 141046) without requiring you to go through Google's official Play app store? It seems that some Android device owners have reported that they have been on the receiving end of a persistent notification from Facebook that informed them the particular update is ready and raring to go, and when you click on the notification, you will be sent to the Facebook app directly, where all you need to do after that is download the latest version.
It seems that the new Facebook for Android update is a legitimate offer instead of a third-party app or some form of malware, and there is even a thread set up in Facebook's help forum, where Facebook product manager Ragavan Srinivasan replied to queries, "We're working quickly to improve Facebook for Android and want to make sure everyone is using the best version of our app. You'll experience these updates when you are on Wi-Fi, and they won't rely on your data plan."

The big question remains - why is Facebook bypassing Google Play? After all, the end result would still be the same, and more often than not, Google Play would be the first place folks go to when they are on the lookout for a new app update.

It is interesting to note that Google's terms of service does not give permission for apps "that cause users to unknowingly download or install applications from sources outside of Google Play." Will the legal eagles there deem Facebook as crossing the line this time around?