Facebook Home put to the test: looks nice, lacks depth!
Authored by:
Nico Heister A preliminary version of Facebook Home recently appeared on the internet. The complete version will be available in Google Play Store for selected devices on April 12th. We've taken a pre-emptive first look at the controversial Facebook Home and here's what we thought.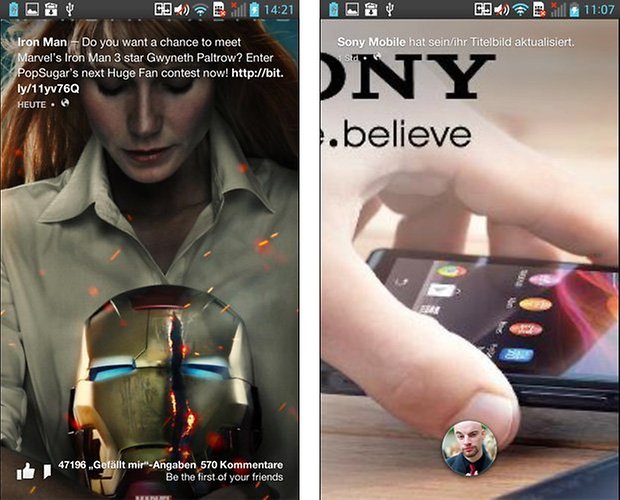 The version of Facebook Home that I tested out is not the full version and didn't have all the functions. On the other hand, it was more than enough to get a first taste.
After you've installed the APK, you'll be asked which launcher you'd like to start in a pop-up after pressing on your Android device home button. Choose Facebook Home and log-in with your usual information. After this, it's go time.
First off, you'll be presented with the sleek-looking lockscreen. In the top middle, you'll see the clock, while in the bottom middle, there will be your profile picture shown a little circle. In the background, a constant feed of status updates from your Facebook friends takes up the entire screen. This is presented to you like a picture gallery in slide-show mode. There seemed to be no problems or hinges to report and created an eye-pleasing display.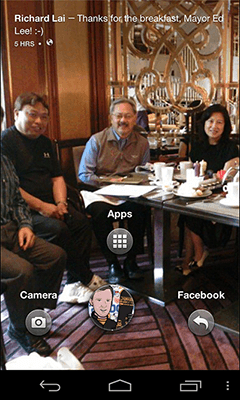 If you drag your profile picture slightly up, you'll be presented with three options: apps, camera and Facebook. If you pull your face all the way up, all of your apps will be displayed. Pull it to the right, you'll be brought to your Facebook account. Lastly, pull it to the left and the camera app will be launched. I tested Facebook Home with an LG Optimus G and the camera function didn't work: nothing happened. The app simply refused to launch.
When you launch your apps, only Facebook-oriented apps like Messenger are to be seen. In of the app overview, you'll be able to update our status, upload pictures and check in to a location. This also didn't work, therefore I couldn't really test it any further. A swipe to the right shows all of installed apps. By long-pressing on the app, you can drag it over to the right screen, which create a shortcut.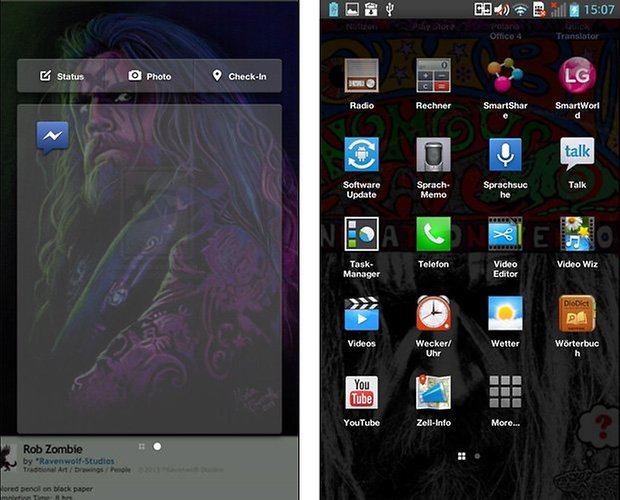 In the Facebook Home settings, you can slightly customize the launcher. For example, you have the choice of whether status updates or notifications are displayed. What's more, you can even overlay Android's status bar again. This is normally deactivated and only appears when you swipe from top down on the lockscreen.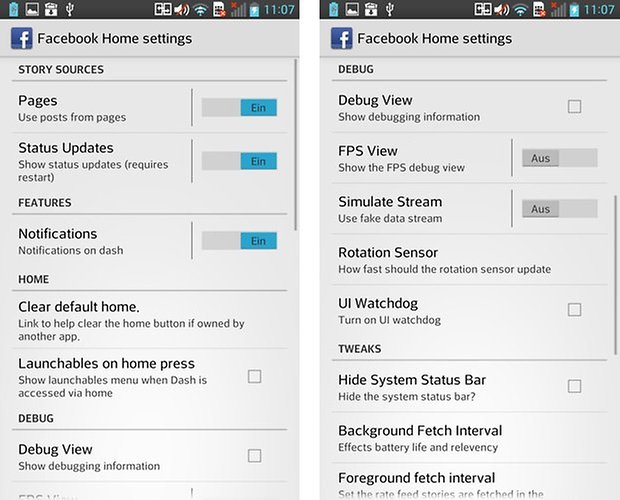 Bottom Line
Facebook Home on the appearance side of things left me with a good impression. The design was minimal, tidy and uncluttered. However, searching for widgets was in vain and the personalization options were kept within bounds. The die-hard Facebook user on the other hand will definitely find that Facebook Home lives up to their expectations. I personally prefer the classic Android launcher with its wide range of possibilities. For me, Facebook Home really doesn't have a purpose. When I feel like using Facebook, then I'll take the app route over the launcher any day.
Have you already put Facebook home to do the test?
[Warning: Install at your own risk!]