Facebook is "Most-Used" App of 2012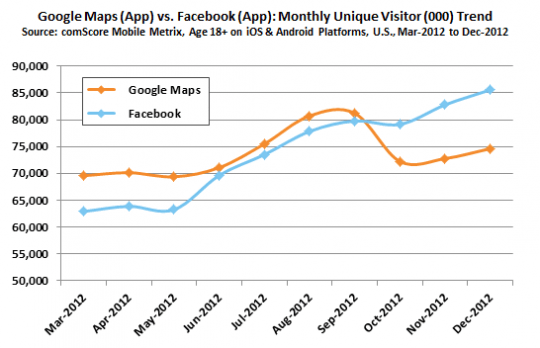 There are over a million apps in both the Google Play Store and Apple's App Store, but only a handful of those are apps that folks regularly use. According to a study by the folks at ComScore, Facebook was the most-used app of 2012, barely edging out Google Maps after the Apple maps fiasco.
According to comScore, Facebook's app accounted for 23% of time spent on mobile apps while all of Google's apps collectively account for 10% of time spent. ComScore's mobile app data is based on the browsing behavior of users as well as supplemental data from publishers. The numbers represent active visitors to apps, not app downloads.
If Apple hadn't removed Google Maps from the App Store, it would have definitely remained in first place, but its absence caused a big drop. As for Facebook's rise near the end of the year, it probably has more to do with a surge in Christmas shoppers buying smartphones for their loved ones than anything else. The app didn't receive a significant update this year, but its wide appeal remains.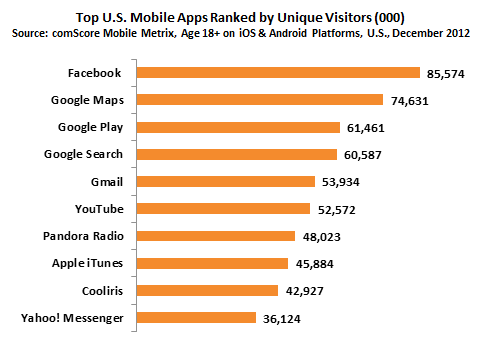 Google dominates the most-used apps of the year, with Google Maps, followed closely by Google Play, Google Search, Gmail and YouTube. The only other apps which make an appearance are Pandora, Apple iTunes, Cooliris and Yahoo! Messenger.
What can we take from this data? Well, it seems like social and utilitarian apps tend to be the most-used. Not a single game made the list. This could be because people tend to complete games rather quickly and then move on to new ones, or it could be because there wasn't a HUGELY significant game release last year. I'm guessing it's the former, but that could just be because I played tons of games over the past year and figure everyone else did, too.
What were YOUR most-used apps over the past year? Let us know below!