Facebook's New Graph Search: Everything You Need to Know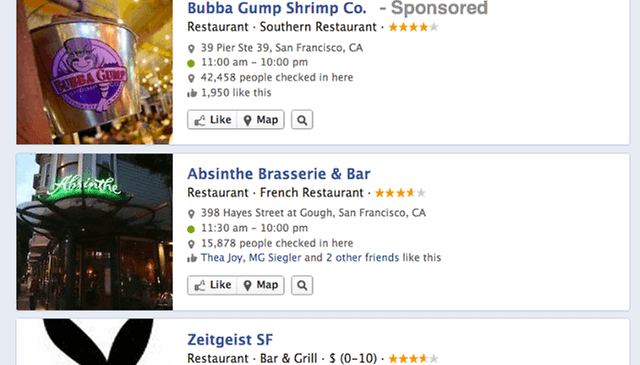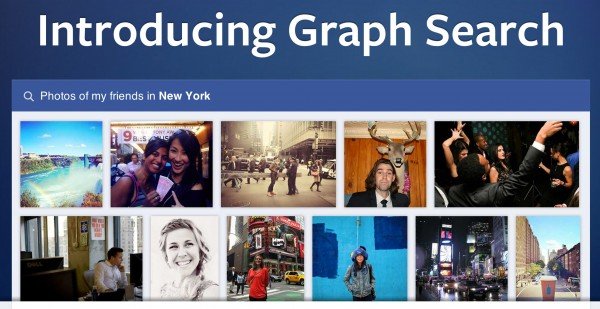 Facebook recently unveiled something called Graph Search, which will allow users to search through their social networks to find information that's interesting to them. For example, someone could search for "cities my friends have visited in the past year" or "photo's I've liked" or even "photos before 1990" and up will come images and data related to that search. Facebook even wants to help you find a date by hooking you up with people who have similar interests. Or, if you're hungry, you could search for restaurants recommended by friends and friends-of-friends.
Expert Recommendations
But it gets even more fine-grained than that. For example, you could search for Indian restaurants recommended by my friends from India, or restaurants nearby recommended by graduates of the Culinary Institute of America. When in Paris, you could search for restaurants recommended by Parisiens. Already Yelp shares have dropped 6% over fears that Facebook's graph search will end up replacing the review website.
Dating-wise, you could look for "single women in my city who like Star Wars" or "Single women over 50" (if you're into cougars).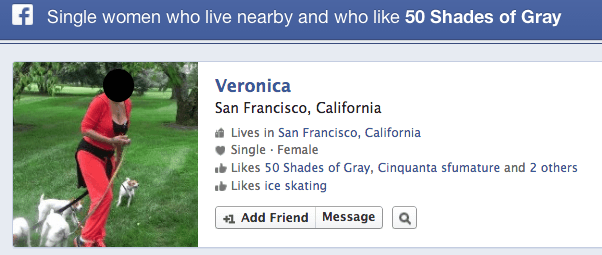 Developed by an Ex-Google Dream Team
Unlike Google, Facebook's graph search will only sift through your friends' content, not the web's. This is a less ambitious project than Google's, but could bring content that's better targeted to a user's interest. The downfall is that those who are less socially-connected will have fewer search results.
The project was developed by a "dream team" made up mostly of ex-Googlers, including the Australian-raised Lars Rasumussen who co-created Google Maps and Google Wave.
An Advertiser's Wet Dream
Investors are thrilled that Facebook has found a new way to mine their incredible treasure trove of data for ever more useful applications, but aren't happy that Facebook hasn't immediate reveal any revenue sources; shares after the announcement dipped 1.5% to $30.46. Still, it's quite clear that this feature will become a gold mine for targeted advertising like sponsored search results, which have the added benefit of being immediately relevent to the user: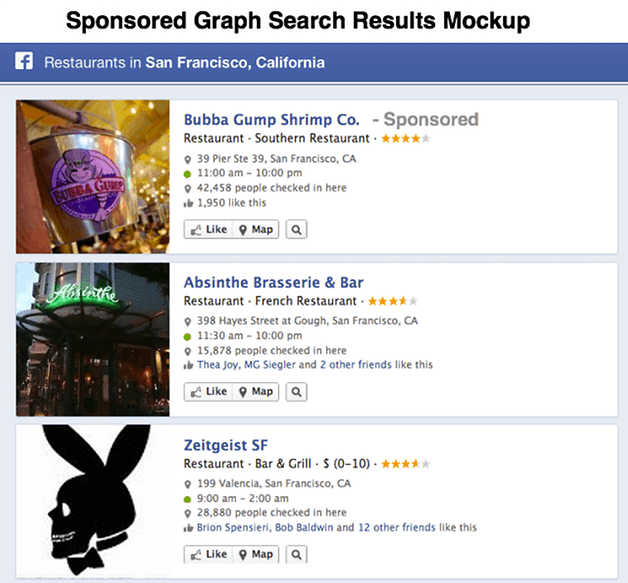 Another possible revenue source could be a paid messaging services that allow you to message strangers without your message ending up in their spam box.
When Can I Get It?
The project is dubbed "Graph Search" because Facebook refers to its growing content, data and membership as the "social graph."
As is often the case with these kinds of updates, the feature will initially be available to "just" a couple hundred thousand of Facebook's billion-plus users before rolling out to everyone on the site. But you can click on a button to join the waiting list here.