How Valuable Are You to Facebook?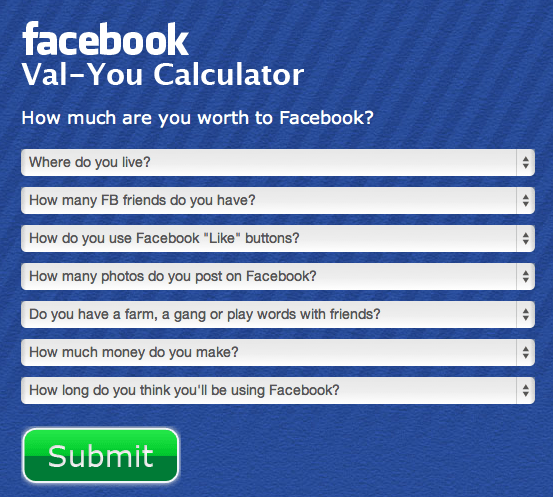 So Facebook is ready to go public and the company is expected to be valued at somewhere between $91 and $100 billion. But if it weren't for its customers, Facebook would be worth nothing. After all, as a general rule, if the service is free, YOU are the product they're selling. While Facebook has been talking up its new privacy rules and regulations – and they really do sound fairly reasonable – there's no doubt that they're using your personal information to make money from advvertisers. But just how much are you worth to Facebook?
A new calculator by a company called "Abine" claims it can answer that question. Using data from Facebook's S1 filing, as well as "independent financial and market research analysts, Facebook advertisers, and our own internal modeling and estimates," the company claims it can estimate how much each of Facebook's 900 million members are worth to the company. All you have to do is fill out a number of key variables and you can see how much you're worth to the social networking bohemith.
A lot of the questions seem quite obvious. Obviously, people who are more active on Facebook and have more friends will be worth more to the company. But I found it surprising that folks in the U.S. are worth so much more to the company than those from other countries. This is likely due to the fact that many Facebook advertisers are, for whatever reason, located in America.
I was only worth about $32 to Facebook. What about you?