Fake Apple Apps on Google Play?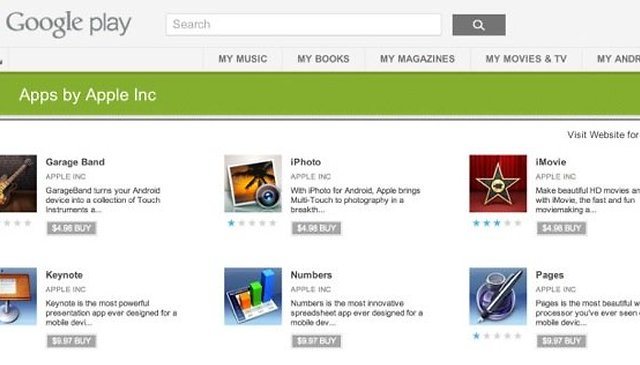 Google Play users had a mixture of confusion and excitement today as many popular Apple applications became available to Android users. Applications that included: iPhoto, iMovie, Numbers, Pages, Keynote and Garage Band.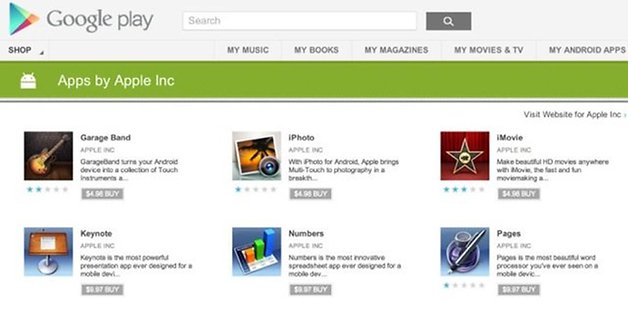 Apple and Android are constantly in competition to get the best applications for their devices. This battle has no truces, no favours and any indiscretion litigation is a fore gone conclusion. With this in mind Android users were shocked to see Apple applications from a developer called "Apple Inc" on Google Play.
The forged applications included Apple apps like iPhoto, iMovie, Numbers, Pages, Keynote and Garage Band. The applications even had mirrored to their Apple counterparts, ranging from $4.98 and $9.97.
Graham Cluley from Sophos explained the confusion stating, "What isn't clear is whether this was a scam to simply pilfer money from unsuspecting Android users hoping to get some Apple-created apps on their devices, or whether it was a more sinister attempt to infect Android phones with malware,"
When downloading applications many state that you should keep the following in mind:
Ensure that the name of the application developer corresponds to a legitimate business or established developer.
There is legitimate contact details associated with the application.
The number of downloads the application has.
Keeping this in mind however would not have helped users as all of the above checked out, even the assigning of the email domain android@apple.com, to the developer details. If anything this is a good warning to users to be very careful when downloading applications.
The applications were eventually taken down by Google. Many critics have pointed out that Google play has no real procedures in place to pick out fake or malicious applications.