First in-flight social network launches from Virgin Virgin America has just announced the first in-flight social network that will allow business people travelling on the same flight to connect with each other using their LinkedIn accounts and onboard wi-fi internet connections. The app is initially available on iOS devices although there seems to be strong indicators that the app is coming to Android devices soon.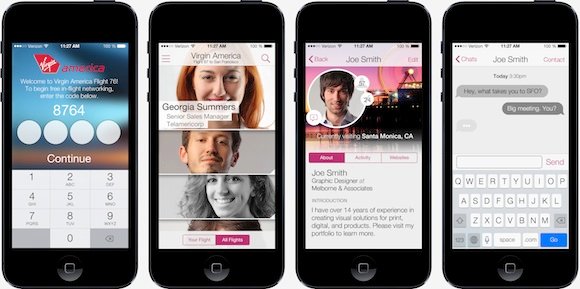 The app is a new customized technology that allows Virgin travelers to connect directly with other travelers. Guests onboard Virgin flights will be able to see, through the LinkedIn API and also through the isolation of the IP address of each Virgin flight, who is on the flight with them and perhaps make a new connection right there on the flight. This even extends to guests on other Virgin America flights that are currently in the air and guests currently at their destination airport.
According to Virgin's Chief Marketing Officer, Luanne Calvert, the need for this in-flight social network was actually prompted by the airline's business travelers.
"When we surveyed our business travelers, we were surprised to learn that the ability to connect with other Virgin America travelers in-flight or en route to a destination was a frequent request," she said. "The best business connections often happen unexpectedly, and we've heard many stories of partnerships and start-up ideas being born on our flights."
The social network will rollout on all domestic flights on Virgin by the end of February this year and the app can be accessed for free via Gogo wi-fi through July 2014.
Hopefully the app will be available on Android sooner rather than later otherwise Virgin can be sure that they are missing out on a large chunk of the market.
What do you think about this in-flight mobile social network and would you like to see it come to Android too? Please leave a comment below and we will get back to you.