Galaxy S3 Teases Flipboard for Android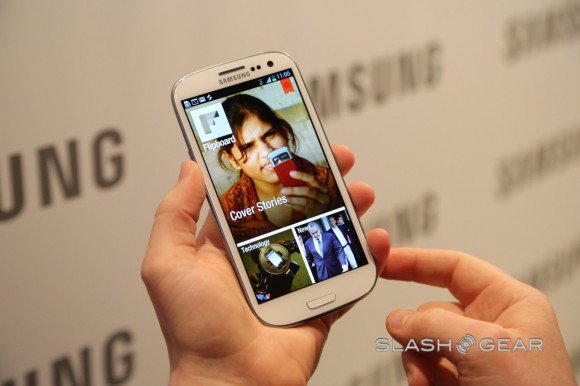 Flipboard is one of the most visually-stunning apps out there, and now it looks like it'll be making its way to Android. The app – which beautifully aggregates content from the web and your social networking feeds – was showcased at the Samsung Galaxy S3 launch in London last night. Flipboard has said that their app will be a Galaxy S3 exclusive to start, and will then roll out to all Android devices in the near future:

So far, it's unclear when the app will launch on more Android devices, although you can enter your e-mail address on this sign-up page to get the latest updates.
Have you ever checked out Flipboard on an iPhone? It really is an awesome app, aggregating your favorite content into a magazine-like portfolio of pictures, quotes and headlines. I was wondering when the app would migrate to Android, and I'm glad that day is coming soon. It seems that more and more apps – like, ahem, Instagram – are realizing that the only way to truly take off is to launch on both Android AND the iPhone. I like this trend, and hope even more apps make the switch in the future.
If you'd like to see a nice rundown of Flipboard's main features, check out the video below: