Food Reporter: A "Facebook" For Food Lovers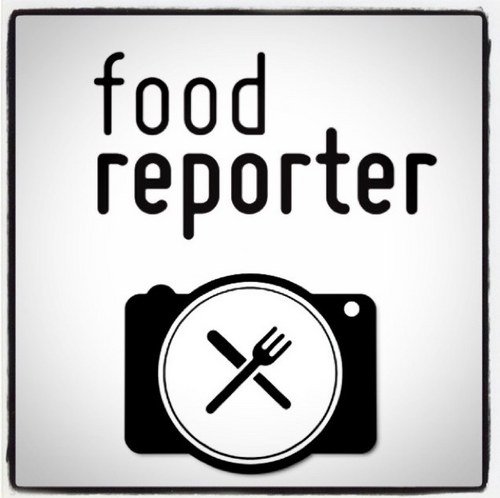 Good food can make just about anything better and we've come across the perfect tool for sharing your love of exquisite food online. Food Reporter is a social network custom-designed for admirers of good taste and beautiful looks when it comes to food. And who are the masterminds behind the project? Why a couple of French food lovers, of course! We had the chance to meet up with Cyril Benhamou to discuss how he managed to combine his two passions: food and social networking to create an app filled with over 200,000 pictures of dishes from food aficionados across the world.
As Cyril recounts, him and his friends have been taking pictures of their food for as long as they can remember. No surprise there, since I'm sure everyone of us has that Facebook friend that keeps a seperate photo album for what has come to be know as food spotting. Whether it's the greasy artery-clotting cheeseburger from your neighborhood diner or that amazing couscous salad from your friend's potluck dinner – taking snapshots of delicious meals is common place on social networks.
That's what gave Cyril the impetus to start a Facebook page in French called "I love taking pictures of what I eat" and over 3000 users signed up shortly afterward. The idea caught on so well among the notoriously food conscious French that pretty soon people started posting pictures of what they ate every day of the week! Once the Facebook page could no longer handle the activity, this group of friends from Lyon and Rennes decided it was time to develop an app and launch a website to transform what started out as a hobby into a full-blown social network.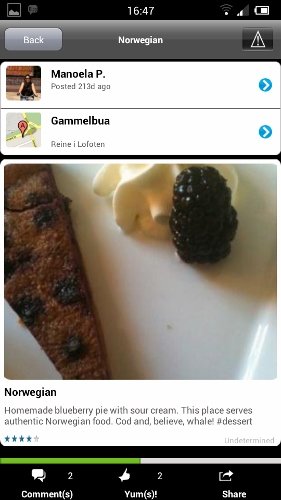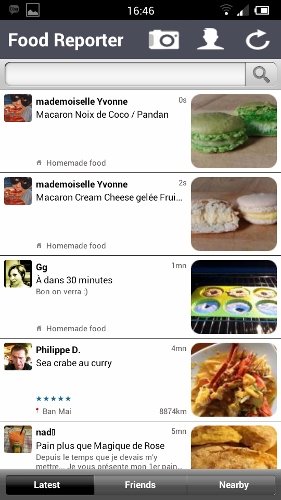 Allowing only their Facebook fans to use the beta version of their initial app, the developers behind Food Reporter soon opened it everything up to the public and website got flooded with new users drooling over pictures of mouth-watering duck roasts and homemade pesto. Food Reporter even comes with its own ratings system based on "miams" (coming from the French word for yummy) which are just like Facebook likes except for food. The more a dished gets "miamed", the higher it ranks in the terms of popularity among Food Reporters.
It wasn't long before French television got involved, which produced a primetime piece on the app and its rising popularity. According to Cyril, the app's founder and CEO, "as soon as people saw us on TV, the number of downloads and uploads skyrocketed!". In fact, the numbers grew so dramatically that their servers crashed interrupting service for over 20 minutes.
Now Food Reporter has accumulated a devoted following of amateur food reporters from across the world and is becoming increasingly popular outside of France.
Food Reporter has managed two combine AndroidPIT's two favorite things: food and Android. Start uploading pictures of your favorite dishes right away by downloading Food Reporter from our Android App Center.