Aug 31, 2011 10:57:05 PM via Website
Aug 31, 2011 10:57:05 PM via Website
Hello,
We're proud to present our new application - SoberApp!

SoberApp is much more than your ordinary breathalyzer app - We're here to take care of all your drinking needs.
For more information please check our our website, at -
http://sober-app.com/
Features -
Browse over 3100 different drinks!
The app can recognizes your general location and adjust itself to the local law in your country for more accurate calculations.
Find a nearby taxi and pubs -The app will help you find a taxi to take you home in case you're drunk. You can also search for nearby bars(without driving, of course).
Scan your drinks- You can scan your drinks' bracodes and the app will detect them and add them. You can also use voice recognition to search your drinks.
Share drinks - Share what you've been drinking and ask for a ride. How else would the world be familiar with your drinking habits?
And much more - add custom drinks, cocktails, view your drinking statistics and much more...
We bring you SoberApp free of charge and without any ads!
If you like our app please rate us on the Android Market.
Download links -
Android Market
|
AppBrain
|
MegaUpload
QR-code-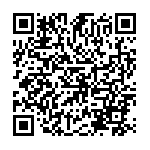 Screenshots -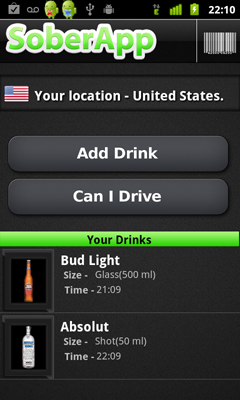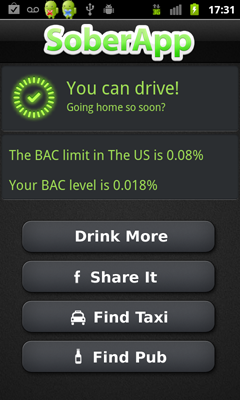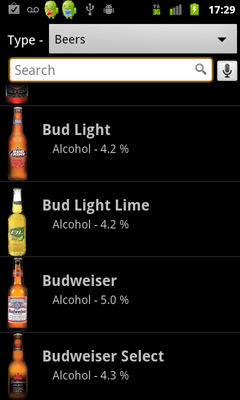 Thank you,
The SoberApp team