Jul 26, 2012 5:22:43 PM via Website
Jul 26, 2012 5:22:43 PM via Website
Tiny Music Quiz is a free Music Quiz game for Android.
Tiny Music Quiz generates questions randomly based on your personal music library meta data.
The app is currently localized for English (US), English (UK) and Portuguese. In order to play Tiny Music Quiz you need to have some songs in your phone's music library. You should also note that the correctness of the questions you will get depends on your music metadata tags being correct!
This is my first app so feel free to enjoy it or hate it
I like apps that are straight to the point with little navigation and hassle separating startup from having fun so this follows pretty much this philosophy.
Here is the link in Play Store:
https://play.google.com/store/apps/details?id=pt.bwdrake.amquiz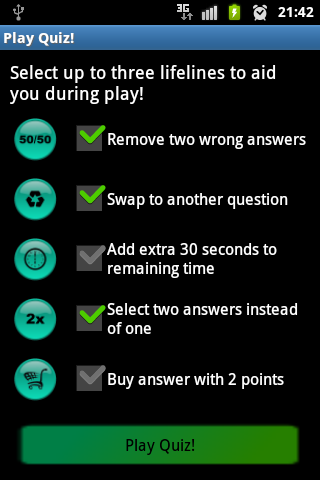 — modified on Aug 15, 2012 2:17:24 AM