Nov 16, 2012 7:47:15 AM via Website
Nov 16, 2012 7:47:15 AM via Website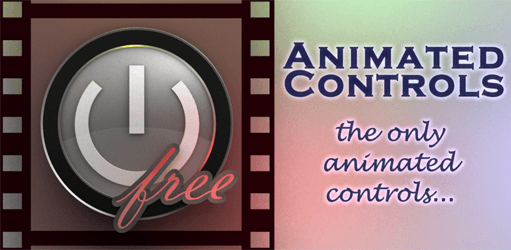 "Animated Controls"
- the only
ANIMATED HOME SCREEN WIDGET
for your customized home screen. You have access to over 20 toggles + additional action on double-clicking for each toggle.
Choose one of themes, transparency, labels and indicators color, clock format and font... - beautify your smartphone!
PROCESS OF SWITCHING IS ANIMATED! SUPPORT DOUBLE-CLICK ACTION!
IMPORTANT NOTE: FROM ANDROID 3.0 SOME DEVICES NEED TO BE REBOOTED AFTER INSTALLATION OF THE WIDGET BEFORE YOU CAN SEE IT IN THE WIDGET`S LIST.
Features:
Process of switching is animated
Several different backgrounds
Widget transparency
Customized color and visibility of indicators and labels
Customized visibility of buttons dividers
Remove widgets size from the list of widgets
Save and load your custom profiles
Action on double-clicking!
and many other
Available switches / double click action
- 2G-3G / mobile network settings
- Airplane Mode / network settings
- Bluetooth / Bluetooth settings
- Brightness / display settings
- GPS / location settings
- Ringer / sound settings
- Application manager
- Auto-rotate screen / display settings
- Wifi / Wifi settings
- Auto-sync / syncronization settings
- Switch APN * / APN settings
- Battery indicator / hidden system menu
- 4G ** / mobile network settings
- Volume control
- Application shortcuts
- Clock / Alarm clock
- Flashlight ** (tested and works on the HTC Legend, HTC Desire bravo 2.3.3, Motorola xoom)
- Lock screen / security settings
- Contact (call, SMS or e-mail)
- Wifi Access Point
- Screen dim timeout
- Mount disk
- USB Access Point
* This function depends on the phone manufacturer and Android OS version updates
** First, widget try to direct switching of 3g-4g mode. If your phone does`t support direct switching, widget try to open hidden form of 4g settings. If your phone does`t support that form, widget open Mobile network settings page.
where to get: google play
free: With ad
payed price:1.79$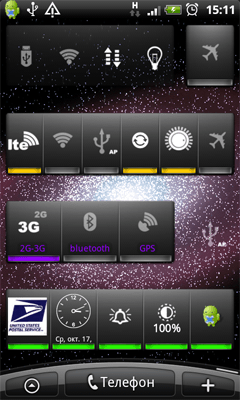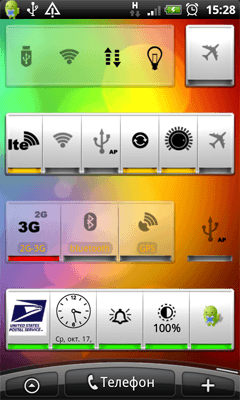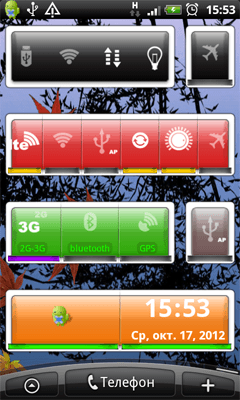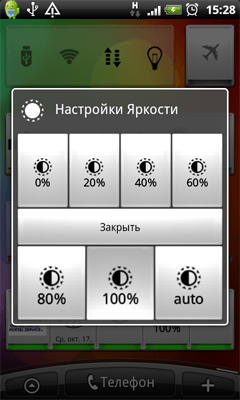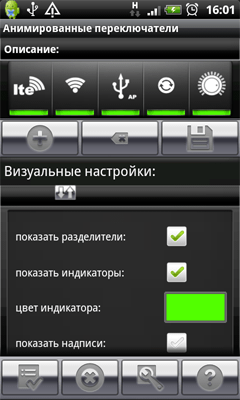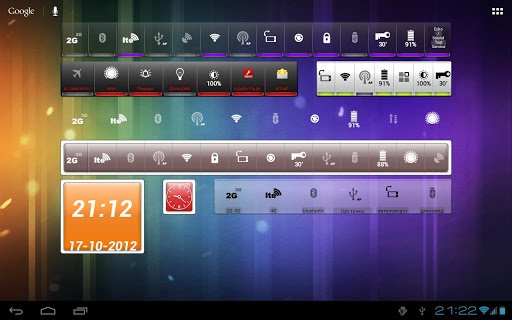 — modified on Nov 16, 2012 7:49:38 AM