Feb 28, 2013 5:42:44 PM via Website
Feb 28, 2013 5:42:44 PM via Website
Spy your Love
Spy your Love is best cheating prevention and detection mobile app !
This app provides mutual 24 hour real-time overview of mobile activity including monitoring of phone calls, SMS and facebook messages. (Mutual = you and your partner are both checking each other)
URL: play.google.com/store/apps/details?id=com.bettertomorrowapps.spyyourlovefree
What are MAIN FEATURES:
- You will see 30 CHARACTERs of every SMS that your love receive or send.
- You will see Call history of your partner (With names stored in his/her contact list).
- You will see Facebook conversation statistics (Name and number of messages per day).
- You will see last message of each Facebook conversation.
- Everything is in real-time. (Just few seconds after your partner receive call, sms...)
- Deleting of SMS or Call log doesn't help, Spy your Love is faster ;) (There i no way how to hide activity or remove something (SMS, FB, Call))
- Mutual spying or nothing
Only with one condition
YOUR PARTNER WILL HAS SAME RIGHT TO SEE YOUR SMS, CALL AND FACEBOOK HISTORY
(We are preparing Android to iPhone and iPhone to Android mobile monitoring)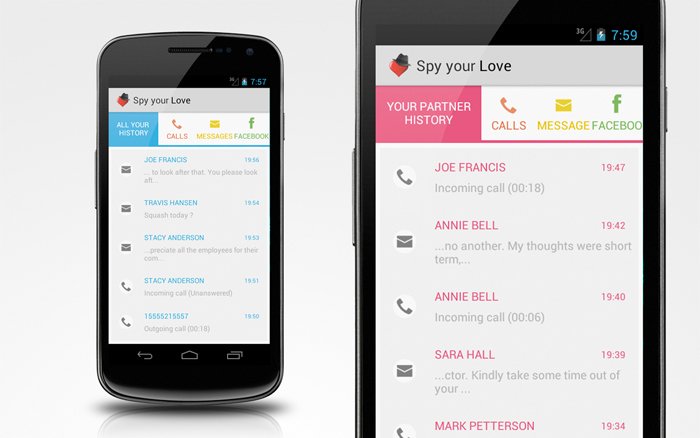 URL: play.google.com/store/apps/details?id=com.bettertomorrowapps.spyyourlovefree