Mar 16, 2013 11:07:30 PM via Website
Mar 16, 2013 11:07:30 PM via Website
Hi Guys,
I'm poor developer from Russia. I like to drink vodka and my friend is bear. I play balalayka every weekend.
This is joke)))
Please evaluete the quality of my app and now I'll tell you about my application
===>
http://play.google.com/store/apps/details?id=com.vucabu.simplerecorder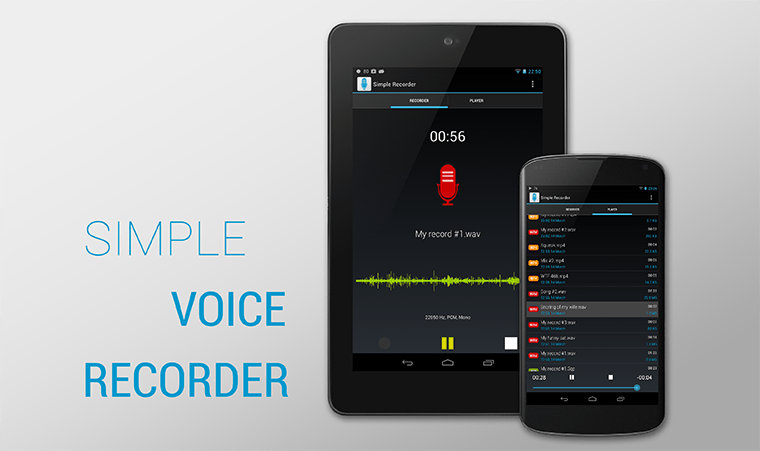 This application provides simple way to record and play audio. "Simple voice recorder" has a very friendly and clear user interface. You can use it as application to record lectures, presentations, voice notes and just for fun.
Use "Simple voice recorder" and create long high-quality audio records without any problems!
Features:
- record audio in WAV (PCM, 8 - 44.1kHz), MP4 (AAC, 32-64kbps), 3GP (AMR, 4.75 - 12.2kbps) output formats;
- use of custom prefix in name of record;
- perfect sound quality in WAV format;
- friendly, and convinient UI;
- all features are FREE;
- ability to work as background process;
- default configuration are optimized and you do not have to look into settings to start use application;
- support of stereo;
- built-in audio player;
- possibility to create audio in a few steps - just using a pause feature (only for WAV format);
- "share" feature of record with friends in social networks;
- there is no limit on time of record;
- really convinient audio player without any unnecessary options;
- put your custom audio to folder with application and Simple Voice Recorder can play them.
Using Simple Voice Recorder you can record a snoring of your boyfriend/girlfriend, important lecture, conversation or even purr of your cat.
Try Simple Voice Recorder. It is absolutelly FREE, simple in use and very user friendly!
We plan to improve our project Simple Voice Recorder. That is why we will do our best to give you a lot of new and usefull features in the future!
Please notice this is absolutelly FREE! Thanks =)
[FREE] Link for download from Google Play
https://play.google.com/store/apps/details?id=com.vucabu.simplerecorder
App Screenshots: (remove slash before add to address)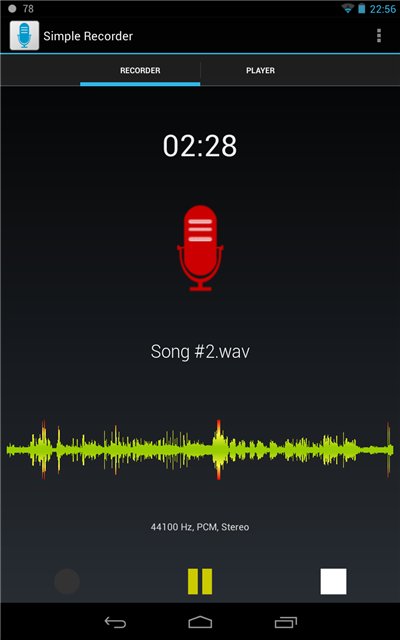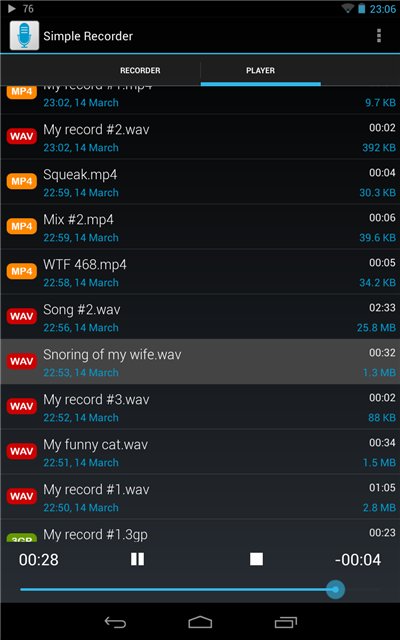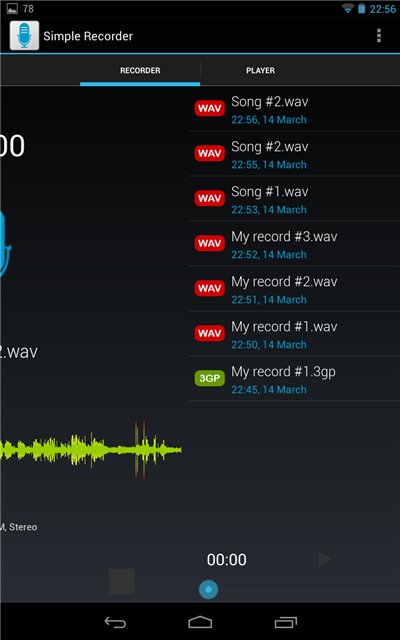 — modified on Mar 20, 2013 10:32:53 PM