Mar 22, 2013 9:03:51 PM via Website
Mar 22, 2013 9:03:51 PM via Website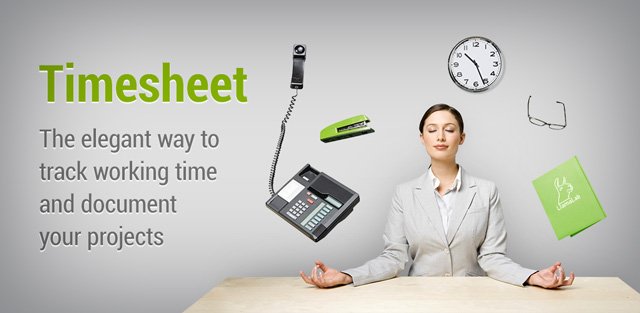 Keep track of work time (timetracker) and document your projects. Calculate your salary/income as an employee or the amount to bill/invoice your clients if you are a freelancer, consultant or contractor. Handle different hourly rates and expenses such as mileage with ease. Then, send itemized or aggregated time & expense reports in Microsoft Excel format. All this with a beautiful interface.
Features
Create projects with clients from your contacts.
Track multiple tasks, active simultaneously.
Fully configurable hourly rates for overtime, off-hours, weekends, etc.
Classify tasks with tags.
Register breaks, paid or unpaid.
Register expenses, with predefined units and prices.
Import phone calls as tasks.
Import/export calendar events as tasks.
Attach notes, photos, maps to projects and tasks.
Voice commands.
Automate tasks with GPS positions, Wi-Fi networks, QR codes or NFC tags.
Automatic mileage calculation with route/track export in Google Earth format (KML).
Daily, weekly, bi-weekly, monthly, yearly or custom fixed/rolling period statistics and reporting.
Chart with daily/weekly hours.
Powerful payroll/expense report customization; itemized, aggregated, tax (VAT/GST) and more in CSV, HTML, XLS or XML format.
QuickBooks (IIF) timesheet export.
Import/Export expense price list and hourly rates.
Backup and restore. Automatic daily backups.
Send attachments, reports, exports and backups via e-mail or to SD-card, FTP server, Google Drive, Dropbox, etc.
Built in FTP client, spreadsheet viewer, map and note editor.
Home and lock screen widget.
Status bar notifications.
Read the
documentation
, also found within the app in the
Help
menu.
Free download at the Google Play Store:
https://play.google.com/store/apps/details?id=com.llamalab.timesheet.free
All feedback appreciated
Screenshots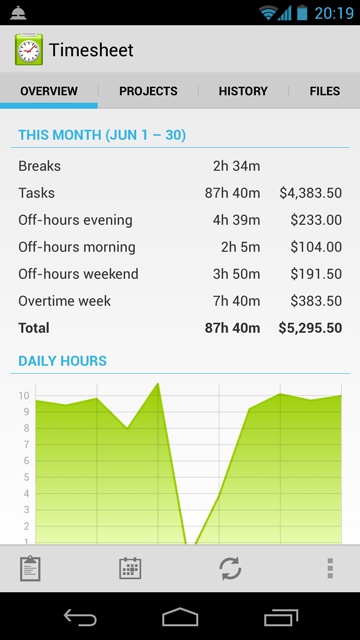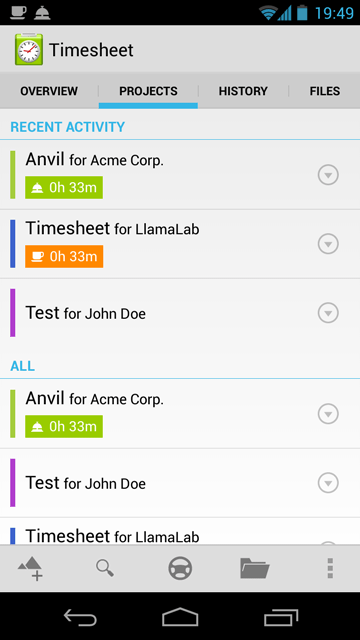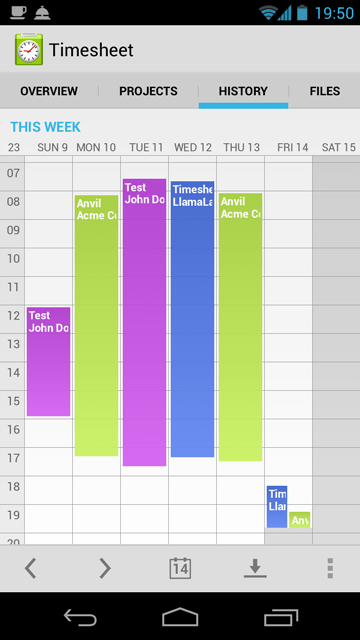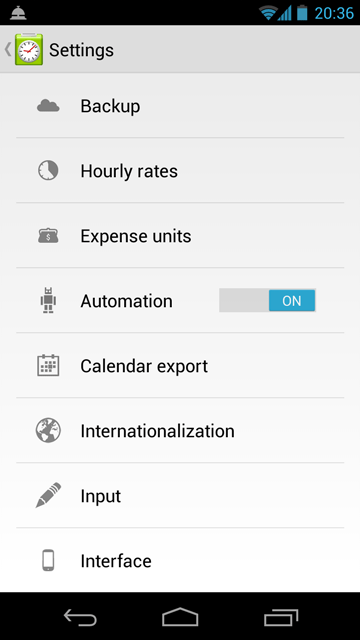 LlamaLab
— modified on Dec 13, 2013 1:49:25 AM