Apr 22, 2013 11:14:18 PM via Website
Apr 22, 2013 11:14:18 PM via Website
Tap the numbers - the best number game designed to train peripheral vision, memory, speed, agility and concentration. This game is based on Schulte Tables, Schulte tables can help speed the development of mental perception, including visual directional speed search movement. They are used to improve attention, self-control and the distribution ability to focus but to improve the stability of vision, discernment, directed search capabilities as well. The longer the practice, the shorter time needed to read the whole table. With in-depth practice, even the beginners can expand and accelerate reading and recognizing capability by vertical and horizontal expansion of vision. Ultimately these tables can be used to increase fast reading and attention. Each table is sorted by character or numeric order. How long should be needed to find all the characters or numbers in order? The shorter the better. On average, a second per cell is excellent, i.e. 9 second for 9 cells, 36 second for 36 cells.
* Train reaction by speeding up decisions you made - try to decide without actual thinking about it.
* Train peripheral vision by looking at whole field searching for a number
* Train memory by remembering where is the next number you need to tap!
* Train speed and concentration by trying to beat the records you made!
How To Play?
This is a true number game. You have board filled with numbers starting from 1 to 36 painted in colors. Tap numbers one by one as fast as you can!
Comparing to other similar games numbers painted in different colors brings much more fun and results! Different colors trains peripheral vision and memory much better because each field is different.
Your aim is to tap all the numbers one by one starting from 1 to 36 as fast as possible. It is not so easy, try it and compare result with following:
1. Less than 30 seconds - you have an excellent memory and peripheral vision. You sure speed reading is not a problem for you.
2. Up to one minute - quite good result, you always have a room for improvement. Use the game to train speed reading, memory and be sure your speed reading results will become better with each day you spend in application.
3. More than 1 minute - excellent observance and excellent patience! But, you have a room for improvement.
Check your results with your friend - find who is the best one!
Comparing to similar games:
1. Fields painted in different colors! Much more fun with it!
2. Field is generated from scratch on each game run!
3. Leader board exists! This will remember you that was the previous result.
4. Time is running in the game. It has own timer!
5. Scores are based on time you spend searching for a number. Try to spend less time and see how you improve!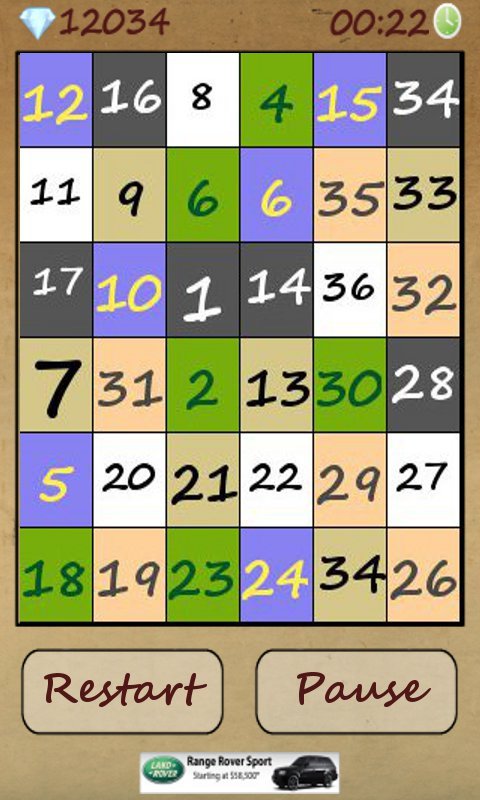 Speed reading training game