Oct 11, 2013 3:27:51 AM via Website
Oct 11, 2013 3:27:51 AM via Website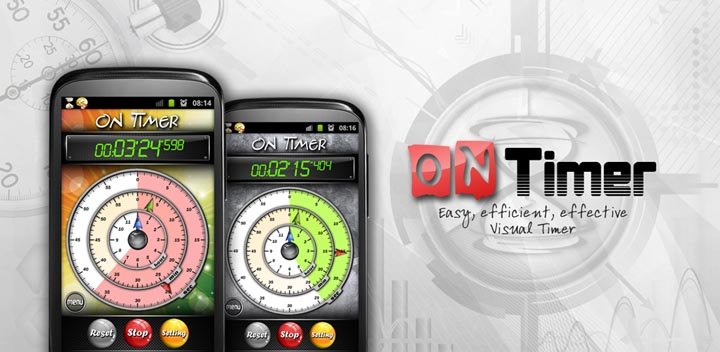 ON TIMER
is a handy, efficient and indispensable timer app on Android. It provides a fastest and effective ways to set a time and start the timer.
ON Timer works with a color disk that will gradually get smaller as the time elapsed, creating an easy visual reference for the passage of time.
This timer enable you to see and glance how much time are left without losing focus on whatever you doing.
With this simple concept, you can manage and feel the passage of time with minimum attention.
It is simple and perfect for all timer activities in your daily life.
For example, learning, monitoring test, cooking, works, sports, alarm reminder, keep meeting in track, manage presentation time efficiently.
Whenever time need to be measure and manage, in classroom, office or in home, ON Timer will help you become more organized and productive all the day.
* Please make sure that you do not install ON Timer on SD card, as the app will not works correctly.
KEY FEATURES:
★ Big color disk display the % time remaining
★ Large display of analog and digital timer
★ Set time with just a tap, in fastest way
★ A tap to Start/Pause/Stop/Reset timer
★ Automatically save unfinished/paused timer
★ Run in background with energy efficient
★ Smallest time unit 1/1000 sec
★ Customizable Alarm duration
★ Customizable LED color
★ Customizable Disk color
★ Customizable theme display
★ Support 3 notification mode
★ Support custom ringtones
ON Timer is a free application with more and more features will be added in future version. We really hope you enjoy this app. If you have any comments, suggestions or questions, please feel free to contact us at potatotree.soft@gmail.com. Thank you!!
SCREENSHOTS

GET IT FROM HERE (Free)
https://play.google.com/store/apps/details?id=com.potatotree.ontimer
QR CODE