Dec 17, 2013 12:30:45 PM via Website
Dec 17, 2013 12:30:45 PM via Website
Candy Crush Saga Rolling: The Concept
As you have a limited number of moves in each game, it's vital to start with an advantage. In some cases, without this advantage, you are very unlikely to win. This is where "rolling" comes in handy. It allows you to save time (and lives) by letting your skip the starting candies which will not let you win.
"Rolling" a level means getting out and coming back to a level till you see starting candy which is advantageous to you.
Candy Crush Saga Rolling: Requirements
In order to roll a level, you must:
1. Be playing on Android or iOS – This will NOT work if you play through the Facebook website on your PC.
2. Play a level without a timer
3. Don't make a move first – Otherwise you have started the level and this will not work.
Candy Crush Saga Rolling: How-To
Once you've loaded a level, and you don't like the candies you see, you can back out one of two ways:
1. Click the yellow arrow in the bottom left, and then press the red "door" button that shows up
2. (Android Only!) Click the "Back" soft key in the lower left hand corner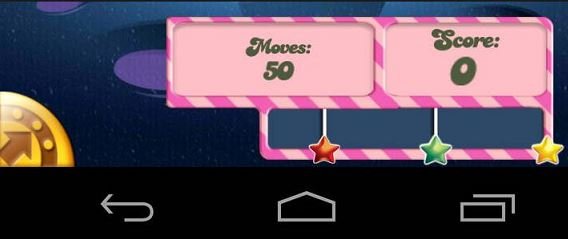 — modified on Dec 17, 2013 12:41:26 PM