Jan 3, 2018, 6:26:14 PM via Website
Jan 3, 2018 6:26:14 PM via Website
Get up and stay fit!
The new Fitari Fitness Alarm Clock will get you out of bed in the morning!

The exclusive feature of this alarm clock app are the fitness activities necessary to turn off the alarm. Your movements will be detected by the sensors in your phone.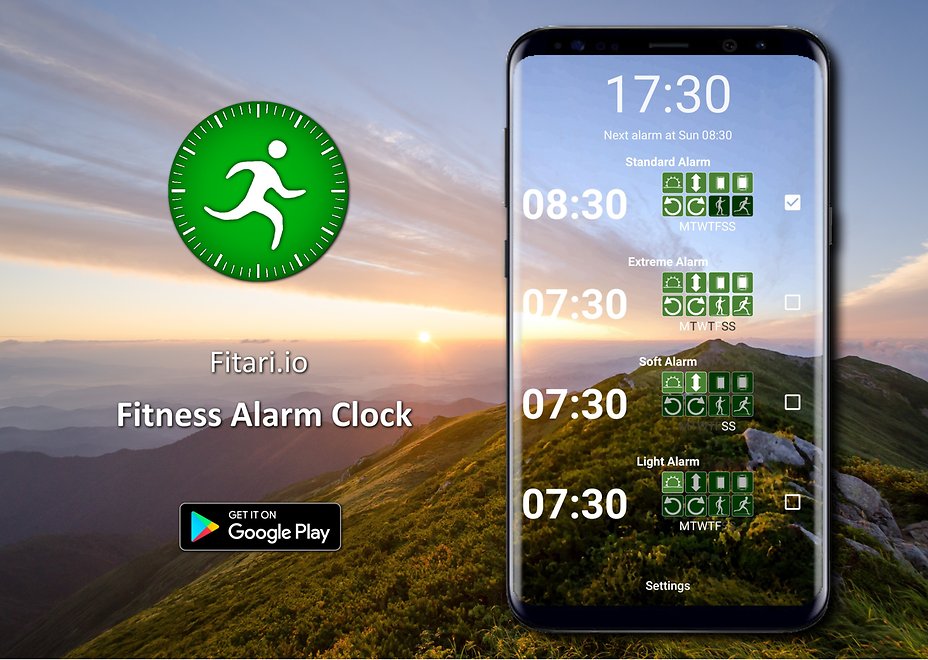 The Fitness Alarm Clock makes it easier for you to wake up by making you do some exercise to turn off the alarm clock. You can choose as many alarms as you want, and decide on which days of the week they should be active, and which activities you want to do after stopping the alarm.
You can get the Fitness Alarm Clock for free on the Google Play Store.
Fitari does offer a number of features to its users:
→ Set a limitless amount of alarms
→ Set alarms on a particular day of the week (e.g. alarms that are only active on the weekend or on weekdays)
→ Use a progressive alarm - it will start quietly and get louder until it reaches the maximum volume in one and a half minute
→ Set your own music for an alarm
Wake up and work out! - choose from eight different types of activities you can do in the morning:
Run
Shake
Up & down
Walk
Walk left circle
Walk right circle
Move slowly
Light on
→ Write a motivational morning message you'll see after finishing the alarm activities
→ Choose one of five different text fonts in the settings
→ Use a vibration(+sound) alarm or just use your alarm sound
→ Choose to do the alarm activities one after another or in a random order
→ Press the time on the home screen of Fitari to see a bedclock
→ Or hover over the top of your phone to get a very detailed clock:
→ You can wake up more comfortably during a light sleep phase - Fitari's sleep cycle tracking feature will measure your sleep movements and wake you up if it detects a lot of movement!
→ To use this feature, press the "Start sleep" button and place your phone close to you on your mattress
→ Set a "REM sleep time" between 30 minutes and 2 hours, which is the time before your first alarm that Fitari will use to look for light sleep phases
→ Choose a larger sensitivity value (e.g. 95% instead of 90%) for the sensors for harder mattresses
→ Take a look at your sleep statistic in the app: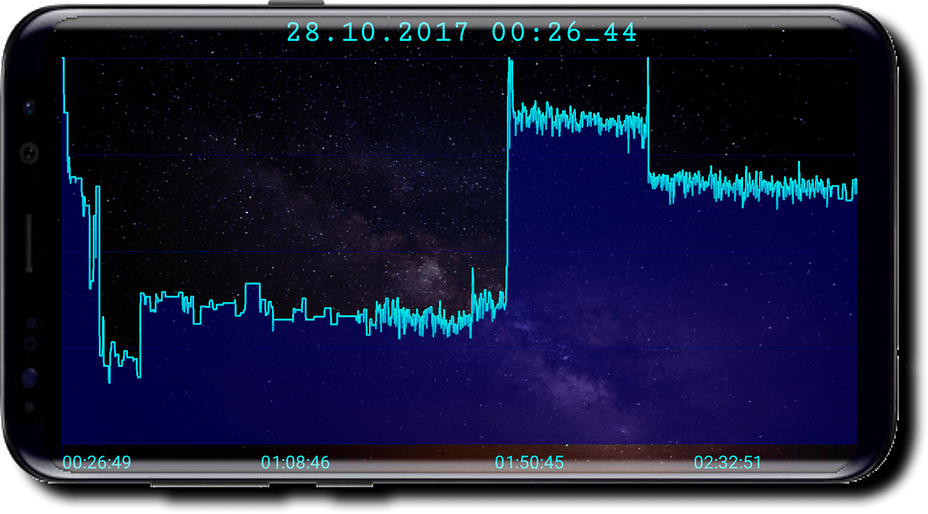 → A detailed statistic showing your sleep movements will then be stored on your phone
→ If you want to view it on your phone, the feature "Smart Zoom" will automatically present the statistic in a more user-friendly way. You can turn it off or on in the settings.
Wake up at the exact right time
Find out in which ways you move while sleeping - with the sleep cycle alarm feature! Record sleep movements with Fitari and view the motion graphs on your phone. You'll be able to see light and deep sleep phases of the sleep cycle in your sleep statistics.
But that's not all - You can increase your sleep quality by waking up in a light sleep phase! Here's how. Use Fitari to wake you up when it detects a lot of movement - and wake you up at that exact moment
You will conequently have a better quality of sleep and wake up more refreshed. As a result, you'll save some time by waking up earlier (once Fitari did detect a light sleep phase).
You'll also love our background sounds that help you falling asleep! Simply press 'Start Sleep' after setting an alarm for the next morning to use the REM sleep alarm feature.
— modified on Jan 3, 2018, 6:30:18 PM