Military Grade Fujitsu Android Tablet On Sale For $549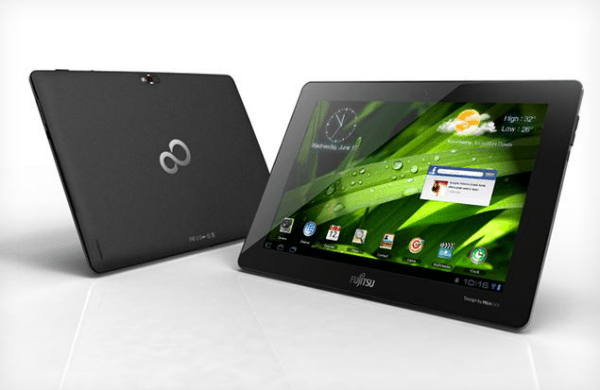 You know what? I'm tired of all these "consumer" products. I want to get my hands on some of that high tech military style Android equipment that's floating around the Pentagon. Drone control people...that's right. While consumers probably won't get access to that type of equipment anytime soon, Fujitsu is now offering their military grade Android ICS tablet through their online store, and surprisingly, I'm pretty impressed with what I see.
The reason I say surprisingly is because Fujitsu has never been known for pumping out sexy Android tablets, but they have always had some innovative ideas. This tablet (as shown above) is actually pretty slick looking. Spec wise, the Fujitsu M532 tablet is packing a 10 inch IPS display with 1280 x 800 resolution, 1GB RAM, quad core Tegra 3 processor, an 8MP back camera with a 2MP cam on the front, 32GB internal storage, and Android ICS out of the box (although the picture above from earlier this year shows Honeycomb). While those are certainly some solid specs, what's so "military grade" about it?
For starters, the device has been tested to military durability standards, meaning that this baby can take a fall. Despite its rugged construction, it weighs less than a 3rd generation iPad, and includes access to Absolute Computrace services for one year. While that's not the Metal Gear solid type of equipment I was referring to, the looks of the tablet, combined with the solid construction, low weight, competitive specs, and Computrace options could be enough to get it a bit of attention.
It seems like everyone wants a piece of the tablet market, but very few are willing to make the effort, spend the marketing $$$, or price competitively enough to be taken seriously. That being said, it's nice to see another Android tablet choice for consumers, and I'm curious to see how the public reacts to it, or if they take any interest in it at all.
For anyone interested, you can purchase the tablet here.
What do you guys think? Is this tablet cool somehow, or just another Android tablet? Is it too late for Fujitsu to even be taken seriously when it comes to Android devices?
Picture credits: The Verge