Fujitsu Lifebook 2013 – A Truly "All-In-One" Concept Device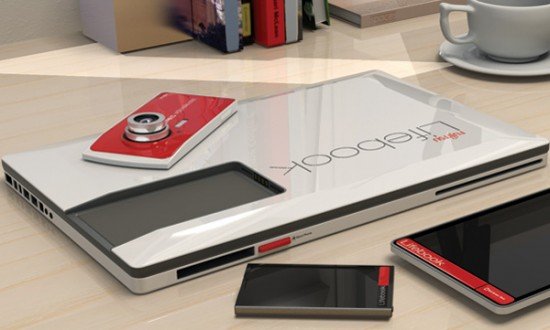 The Fujitsu Lifebook 2013 concept unites a laptop, tablet, phone and camera together in one device. Even if we've seen devices that come close, this concept takes the cake when it comes to versatility.
The ASUS Padfone may be able to transform itself from a phone to a tablet, but the Fujitsu Lifebook 2013 takes that idea a few steps further.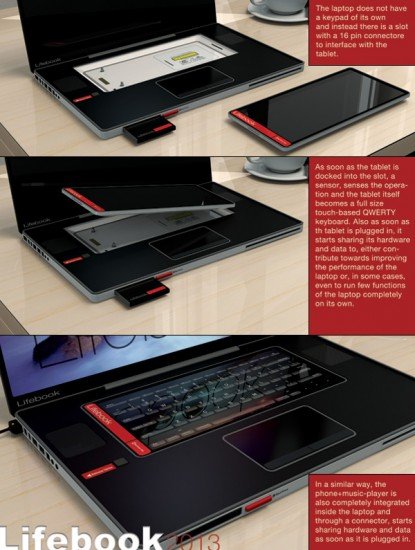 Where a keyboard would be, the laptop holds a small tablet. As soon as the tablet is in the slot, it becomes a full size touch-based QWERTY Keyboard.
While this may seem a bit silly, imagine if the tablet could just as easily transform itself into a sketchpad or a second screen for gameplay. I could imagine that being quite useful.
A separate slot (near the bottom right in the picture above) can contain a smartphone, which would also sync itself with the tablet, laptop and camera.
KT Spider Konzept
The KT Spider Concept is a laptop we first saw at IFA this year which syncs your phone with your laptop with a similar slot, but it doesn't replace the keyboard. The Fujitsu Lifebook 2013 concept goes much farther.
I think the pouch for the phone looks awkward, and I'm not sure folks would prefer typing on a tablet screen in lieu of an actual physical keyboard, though I can see how this set-up could be helpful for sketching things or for certain kinds of gameplay. The addition of a camera might be a tad excessive, but who am I to judge an imaginary device? This is an interesting concept, especially for those interested in multi-screen gameplay!