 Forbes Magazine: Android Will Fold In 2012–Is The End Really Near?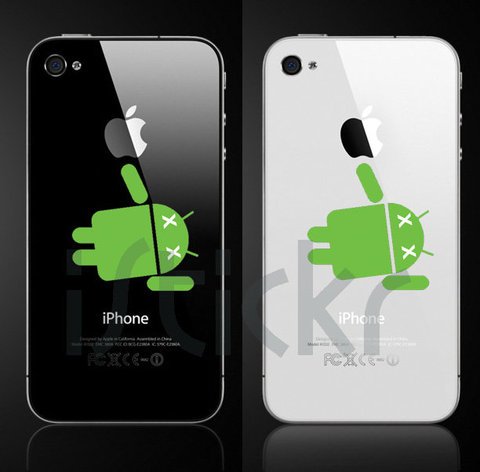 (Picutre: Chipchick)
In the online edition of Forbes Magazine, author Ewan Spence claimed Android's use-by date was just around the corner and that 2012 would mark both Android's zenith and the beginning of it's collapse. The crux of Mr. Spence's argument is that the introduction of Ice Cream Sandwich represents the pinnacle of what is possible with Android. In other words ICS is as good as Android is going to get. While they also argue that it's a great OS, one is left with the impression that they feel that Android can never be as good as the competition.
ZDNet: "The Galaxy Nexus proves, that Android just isn't good enough."
The same aversion to Android comes across in an article published by James Kendrick in ZDNet. Mr. Kendrick's conclusion is that Android 4.0 is the final proof, that Google's mobile OS can never stand toe to toe with iOS and Windows Phone 7 when it comes to performance. Afterall the Samsung Galaxy Nexus and Android 4.0 are the best what the platform has to offer. But despite that , the author claims that the overall performance is still not up to snuff. The problem? Android is too open and that will cause frustration with users.
And at the end of the day, the user is the most important part of the ecosystem.
Google: the missing part of the puzzle
The search engine giant Google is seldom underestimated. After all if you wants to see exactly what innovation means, all you have to do is look to Mountain View where Google write innovation with a capital "I". But it's not entirely unfair to say that the usability side of many of Google's products wasn't their number one priority. While they may have the tech geeks squarely on their side, it's often seemed as if normal users were left wanting a bit more attention. Of course Joe Schmo used Google products because they worked and were free, but have they ever attracted the same level of brand identification among less geeky crowds? Not really.
But Google seems to have gotten the message the normal users need to embrace their innovation as well. Matias Duarte Android's new chief designer for Ice Cream Sandwich has stated repeatedly that he wants people to love Android. But is that just lip service? Or is he really dedicated to spanning the gap between the techies and people who just want a phone that complements their lifestyle.
AndroidPIT has often criticized Google's management of the Android market and have bemoaned Google's disinterest in improving general user experience. But the last months have seen marked improvements in usability and aesthetic value that have culminated in Ice Cream Sandwich. However people still seem unconvinced that Google is capable to develop products that people want to use. Google+ users know what were talking about, when we say that the improvements of the last weeks have actually made the service a pleasure to use (finally!).
Google is making a near perfect ecosystem
We here at AndroidPIT can understand where the two authors at ZDNet and Forbes are coming from with their criticism. However their conclusion couldn't be farther from the truth. I think the claim that Google's choice of embracing an open system will be the death knell of the Android OS because it makes optimization more difficult then it is on Windows phones is missing the point. The true advantages of an open system is the diverse ecosystem it creates, and the advantages of a good ecosystem outweigh minor performance issues.
Google's complete pallet of services work hand in hand to create what could soon be a perfect user-defined environment. Google+, Google Maps, Google Calendar and Google Docs are constantly expanding to support services like Google Music and the Android system. By betting on convergence and interconnectivity Google may just have found the secret to finally getting the public to fall in love with its product pallet. The ability to run your entire life from anywhere using just about any device you can think of will be for many the ultimate USP. Cloud based services are already starting to mimic Google's connectivity but Google has a leg up in the race and you can't beat their low low price.
While there is often grumbling about bloatware and many OEM's refusal to ship phones with "vanilla Android", if Google refused to let them put their own touch on the Android OS they would run the risk of loosing many of their partners, who have made the Android ecosystem what it is today.
It's possible that Android wont be able to compete with iOS and Windows Phone 7, when it comes to optimization, but the user experience and complete integration with all major Google services at the end of the day will make sure that the Android ecosystem remains the most popular in the world.
We here at AndoridPIT can't wait for 2012. We're sure the new year will bring great things for the entire Android community.

Related Google News: