FWeather: The widget curses about the weather for you!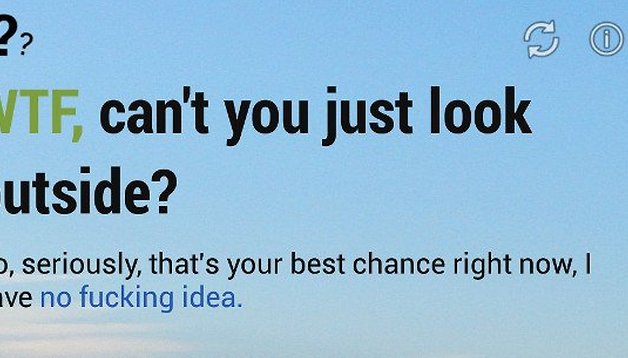 Fall is coming and everyone is talking about the weather: it's too cold, too gray and too wet. If you are looking for a weather widget that will help better express your hate against clouds, rain and wind, then you should take a look at FWeather. But be careful! After installing this widget, your homescreen will definitely seem a lot more badass.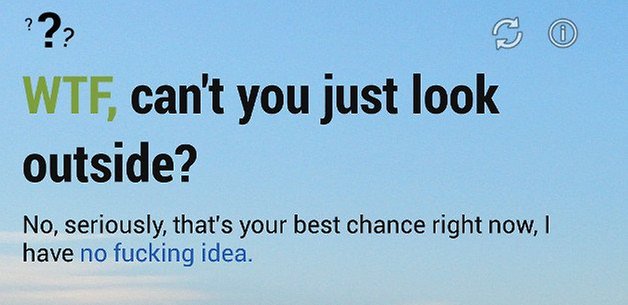 When I looked out the window this morning, all I could think was: ''What sh*tty weather!'' Berlin has looked extremely sad, gray and rainy these last few days. This can even make the happiest of people depressed. It's for moments like this that the FWeather widget comes in handy: in short, it gives you a clear, no-holds-barred description of the present weather on your homescreen and in doing so, gives up what normal weather widgets tend to do.
There is no animated background, no thermometer, weather or weather gauge, nor is there a 14-day forecast. FWeather brings it all to one point: ''Not fucking raining. Yet.'' And the temperature is equally eloquently described as ''cold like a fucking fridge.'' And when you tap on ''refresh'', it will answer you with ''Ok Ok, I'm doing already! Don't rush me!''.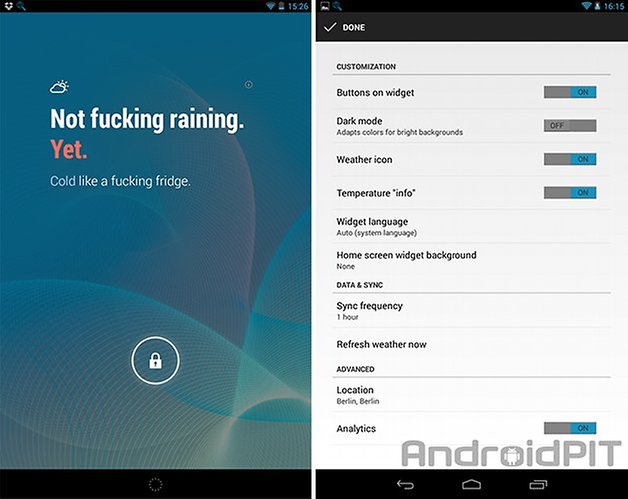 It's available in English, German, Italian and Chinese. The settings contain next to nothing and no detailed information. This isn't the point of the widget: it's intended for fun and those who aren't easily offended, turning the principal of the popular weather widgets upside down.
Like I said above, if you aren't faint of heart and don't mind the cursing that will be piping out of your smartphone like a sailor, then you can install FWeather free of charge from Google Play. I had fun using it for a while, but then again, I really do need to know the weather so I'll switch back to my good old 1Weather widget.