Galaxy Nexus Ban: Google's OTA Software Patch Will Cripple Search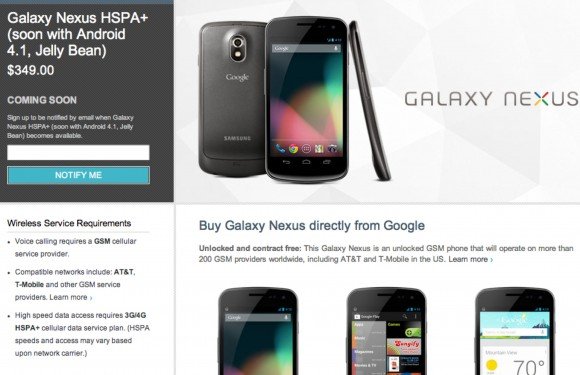 ("Coming Soon": Galaxy Nexus is no longer available for purchase from Google Play)
A judge has ruled in favor of Apple and upheld a ban against the Galaxy Nexus. Google has a patch in the works, but it will cripple the Nexus' ability to search.
The judge found that Android's "Quick Search Box" feature infringes Apple's US patent number 8,086,604, which, in technical gobbledeegook, "covers feeding predetermined heuristic algorithms to different searchable areas via a single unified search interface."
The patent in question relates to Siri's ability to search calendars, tasks, Maps and more all via a single button. Given the fact that Siri is the crowning achievement on the iPhone 4S, you better believe they're going nuts over Google's improved search bar functionality.
The judge has rejected Samsung's appeal and affirmed that the fact that the Galaxy Nexus can search across platforms causes "irreperable sales loss" to Apple. As of last night, due to the injunction the Galaxy Nexus is no longer available for purchase in the Google Play store.
Google has a fix in store, but it will cripple Google Nexus's ability to search. A Google spokesperson has told the Verge what the OTA update will do to the Galaxy Nexus:
The update, which will be rolling out to all Galaxy Nexus devices in the US regardless of carrier, will essentially dumb down the quick search bar on the Android homescreen, limiting its results to just those from the web. No local searches on the device will be performed at all, taking on-device apps, integrated Gmail, and other search results out of play. Voice search, which has been a point of contention in the trial, isn't going anywhere — but it will be restrained to the same set of limited search results.
That said, somehow Google says that the Android 4.1 update will NOT be affected by this injunction, so it looks like Google is simply sending out this patch to appease the court. It's unclear whether users will be forced to install it. Obviously, rooted users won't have to deal with any of this, giving folks one more good reason to root their devices.
In other news, I'm so sick of these patent wars I could die.