Galaxy Note Ad: "HELLO. YES THIS IS ELEPHANT"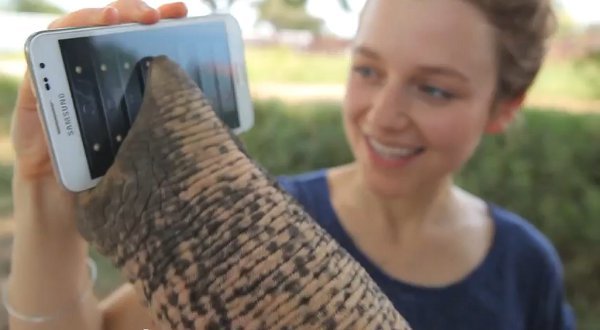 The Galaxy Note is big. We know this. But big enough for en elephant to play with using its trunk?! Damn. That is one big screen. In this heartwarming ad for Samsung's Note-worthy new addition to the Android family, an elephant performs all the major functions of the Galaxy Note using just its trunk! Amazing.
Elephants have finger-like lobes of muscle on the end of their trunks, filled with sensitive nerve endings, which allow them to perform intricate tasks. By far the most impressive part in the ad is when the elephant seems to be sketching the image of an elephant! I'm still not sure if the elephant knows what it's doing, but it sure looks like he does. Check out that part of the clip around the 40-second mark and let me know what you think.
Folks on Reddit are already joking about the ad. My favorites are "HELLO. YES THIS IS ELEPHANT" (by Reddit user Drunken Economist) and "What a silly ad. The premise of the whole ad is irrelephant" (by Reddit user thastig). The comments also directed us toward outtakes from the commercial shoot, which we've included below the original ad.
Galaxy Note sales among non-Elephants has been strong recently. Samsung claims the Galaxy Note has been sold 5 million times since the device was introduced last October. That's a strong growth for a non-traditional phone tablet.
The ad comes hot on the heels of a number of viral Samsung ads, including the ones that have poked fun at the Apple cult. At this point, I'd say Samsung is making the best Android ads of any manufacturer. This latest one is both a testement to the Galaxy Note's enormous screen, and a testement to the intelligence of elephants. It's a win-win, really, and makes for some great eye candy.