Galaxy Note Android 4.1 Jelly Bean Update Coming Soon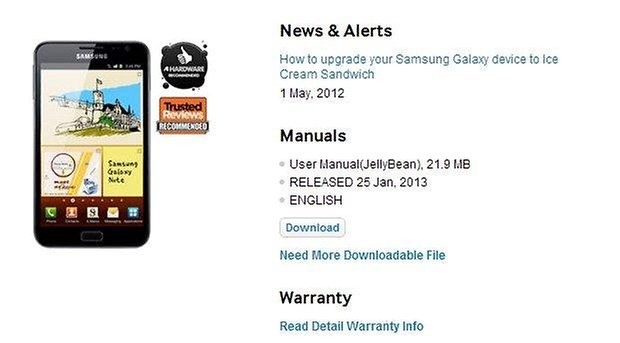 The Galaxy Note from Samsung has proven itself to be a revolutionary device when it was revealed in 2011, ushering in a new age of "phablets", where it was first launched with Android 2.3 Gingerbread and subsequently, received the Android 4.0 Ice Cream Sandwich operating system update. Well, it seems that there are is some mileage left in the Galaxy Note's legs as we could very well see the Android 4.1 Jelly Bean update for this bad boy in due time.
Just how did we manage to come to such a conclusion? Well, Samsung has published the service manual for the Android 4.1.2 Jelly Bean update on its own website recently , where this update is tipped to arrive either this month at best, or in February. In fact, this time frame would also be when the Samsung Galaxy S2 picks up the Jelly Bean update, too.
Galaxy Note owners will be pleased to know that Samsung has faith in their original phablet and continues to offer support after a couple of years, although it must be taken into consideration that the next major operating system release, rumored to be Android 5.0 Key Lime Pie, will not make its way to devices circa 2011.
I guess Samsung intends to prolong the life of their older devices for as long as possible, so if one were to keep their fingers crossed, the original Galaxy Note would be on the receiving end of some buttery goodness in the form of the Android 4.1 Jelly Bean update soon. You can check out the service manual here that weighs in at a 21.9MB read in PDF format.