Samsung Galaxy Note ICS Update Comin' At Ya!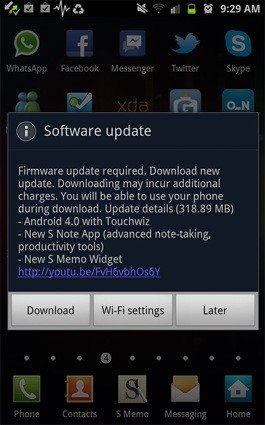 Samsung's finally rolling out their ICS update for the Galaxy Note. The update will include all those awesome Premium Suite features we've written about in the past, including features like S Note, Shape Match and My Story which make it easier to take notes, draw graphs and share 3D cards respectively. All that in ADDITION to delicious Ice Cream Sandwich.
Take a look at this handy run-down of all the new features:
Here's the full list:
8 new templates for doodling, sketching and taking notes, including magazine, travel and recipe layouts.
"Automatic shape correction," which straightens your lines and rounds your circles, making your doodles look more professional.
"Formula match," which finds answers for the math equations you draw.
3D cards that can be sent to other people (although I'm not sure if they'll work on non-Galaxy Note devices).
30 exclusive Angry Birds Space levels.
I wish every device manufacturer would bundle such awesome software additions with their update packages. These look truly amazing!
While the update has already begun rolling out to European users, others are expected soon. Still, we can't guarantee you'll be getting this update today.