Galaxy Note Pro 12.2 hands-on: first impressions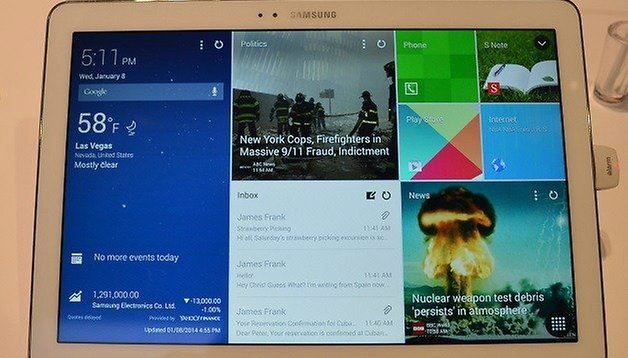 The Galaxy Note Pro 12.2 was one of the highlights in mobility presented during the CES and I had an opportunity to get my hands on it for a first impression. The Note Pro 12.2 is a grown-up Galaxy Note 3 with added software features, an improved user interface with Magazine UX and lots more space and tools for productivity. So without further ado, here's a first look at Samsung's behemoth Android tablet.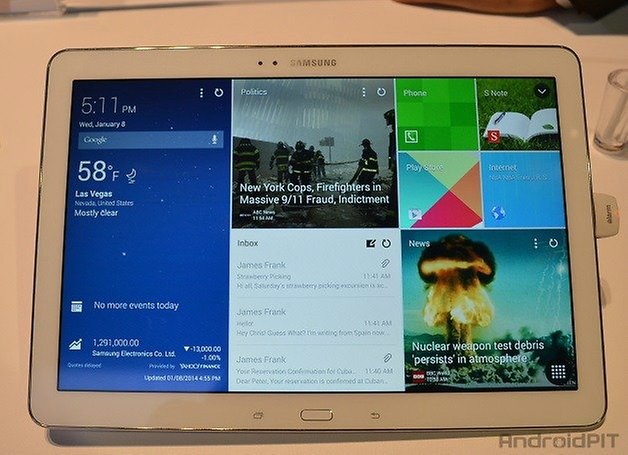 Design
At first glance, it's evident that faux leather is the new Galaxy trend; they didn't stop with the Note 3 and Note 10.1. Not only that, it boasts the same aluminium frame and polycarbonate bezel. With its dimensions of 259.5 x 203.9 x 7.95 mm and weight of 750 g (753g for LTE model), it's quite slender thanks to its meager width, giving off an elegant impression. The IR blaster and power/lock button are found on the top, while the dual speakers are found on either side along with micro USB port, microSD, SIM and S Pen slots. The home button is located in the usual central position under the display when in horizontal mode. The bottom is devoid of any buttons or ports other than the microUSB charging port.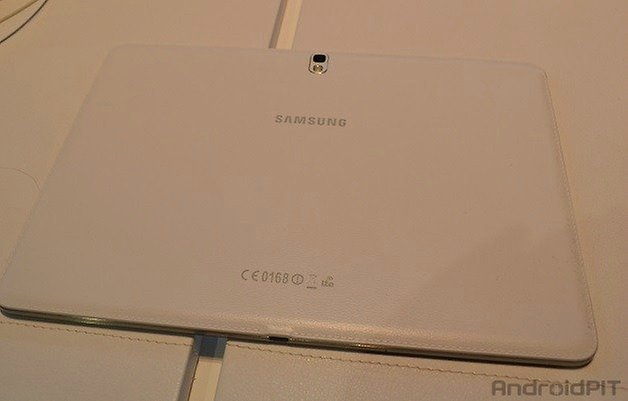 All in all, the design is quite sleek and the entire impression, look and feel are nice. However, I found it slightly difficult to operate one-handed, especially when wanting to use the S Pen, therefore users will likely use it while it is laying on a surface.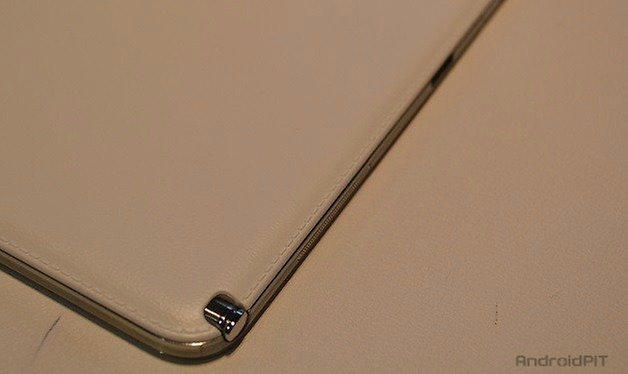 Display
There is not really much to complain about in terms of its Super Clear LCD display with a Full HD resolution of 2560 x 1600. What more can one say about its 247 ppi, the best you can get on a 12-inch model, other than it has an evidently excellent viewing angle and great color representation. The individual pixels are naked to the human eye. The LCD display could indeed use up a lot of your battery if set at constant brightness, just as any high performing screen would, so we have quite a few tips on how one would save battery life.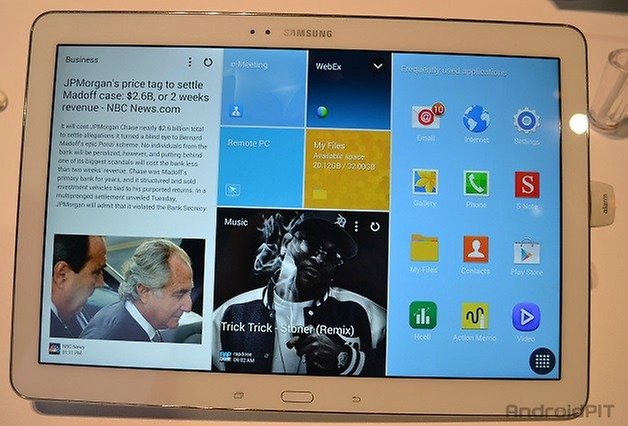 Software
Aside from the hardware, which is as close to perfection as one could hope, the software within this Samsung tablet is what sets it apart from other manufacturers. Whether this is a good thing is a matter of opinion: the manufacturer is often criticized for bloatware, unnecessary software features which use up a lot of the internal storage and suck battery life. However, many people like these features and will surely be pleased with the many new elements now found in the Note Pro.
Firstly, they've implemented a new tweaked user interface. It combines the usual home screen, which users can load full of folders, apps and widgets, and a new Magazine UX. If you are familiar with the newsfeed app Flipboard, it's similar to this in that the interface presents a "dashboard" full of content from news, books, magazines, apps and more, all in tab form for a more visually appealing look. This reminds me of the Kobo UI which we saw at the Berlin IFA: the content is brought forward instead of hidden within an app drawer, allowing the user to "flip" through it like the pages of a magazine. Of course, you still have the app drawer and everything else you are used to. Magazine UX can be customized to your liking, where Samsung says "keep what matters at your fingertips". The general style can also be altered.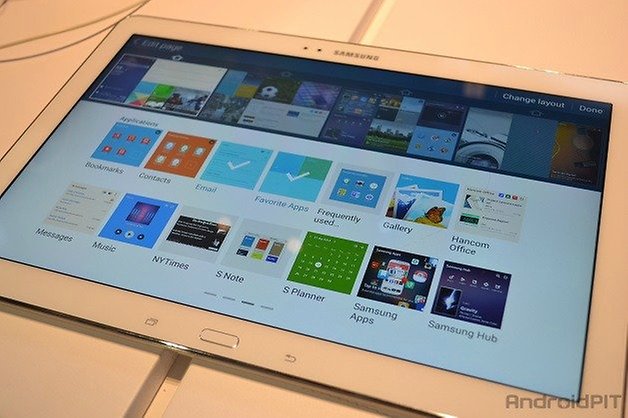 Samsung makes a point of implementing multitasking to all its devices and this is no different with the Note Pro. They've even upped the ante, allowing the user to employ up to four apps at the same time in their well-known Multi Window mode. The user can choose the apps, adjust the proportions and drag content from one app to another. By long pressing on the middle point; a menu will pop up providing you with options like expand, close out and switch apps.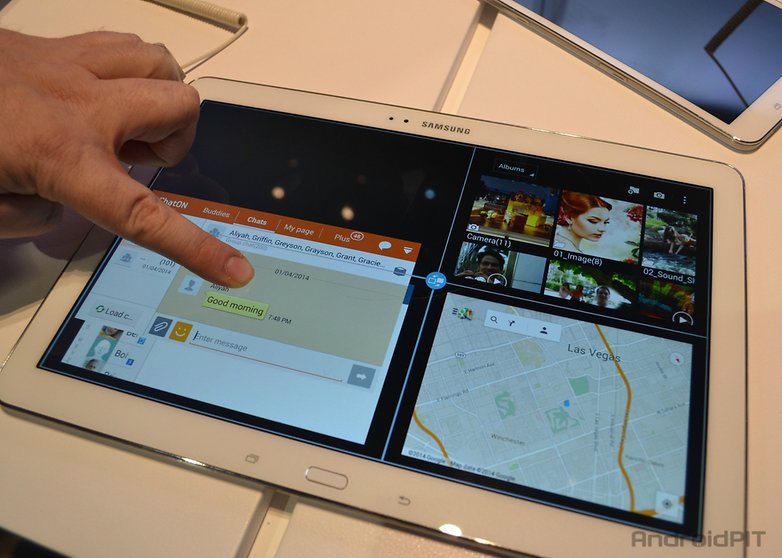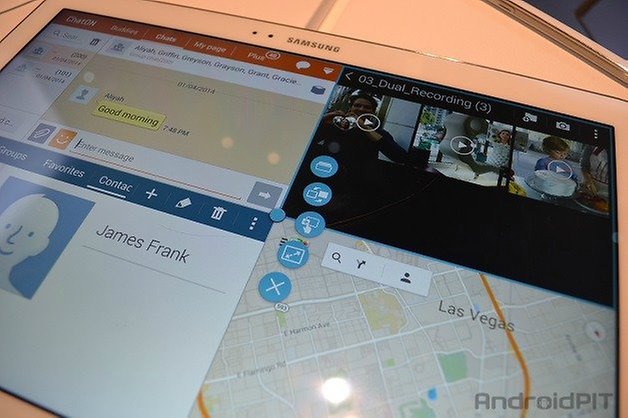 In addition to this, there are some other new and interesting things that the Note Pro can do: with an app called SideSync, you are able to project an image of your smartphone screen right onto your tablet display and operate it from there, using Wi-Fi direct. You can surf the internet, send messages, use the apps as well as share content from the smartphone to the tablet and vice versa. When a call is made or received, this will automatically go through the smartphone which is then turned back on. During the demo, this worked impeccably and I could see this being quite useful.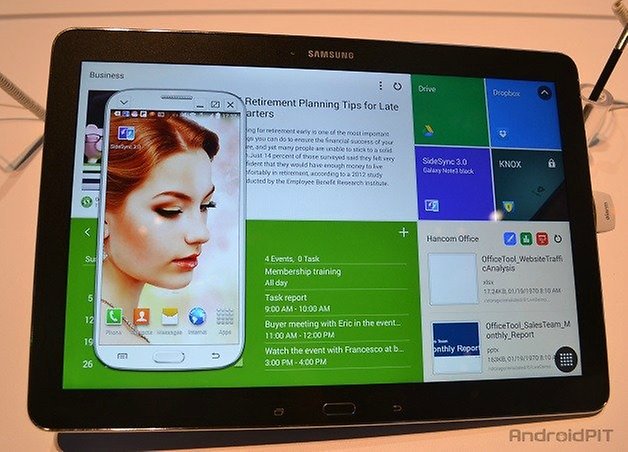 The second cool thing is Remote PC which allows you to transfer and project your PC or Mac screen onto your tablet display and use all of the computer programs from there.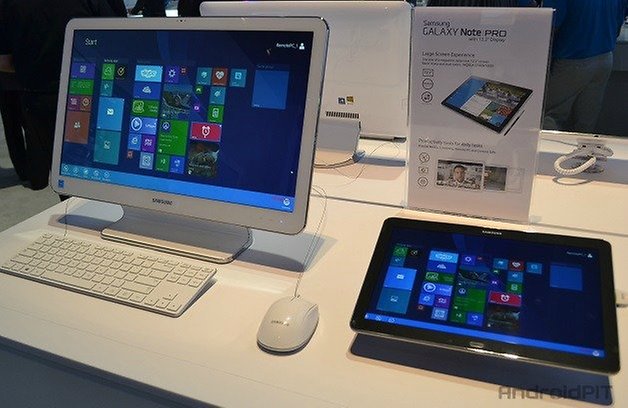 Samsung's new tablet also supports the S Pen, which fits quite snugly into the bottom corner and once pulled out, can be used to automatically access the Air Command menu, or by pressing the button on the stylus and touching it to the display, just like we've experienced with the Note 3 and 10.1 2014 Edition. (Check out our full hands-on review of the smaller phablet). In this stylus menu, it presents you with Action Memo, Scrapbooker, Screen Write, S Finder and Pen Window.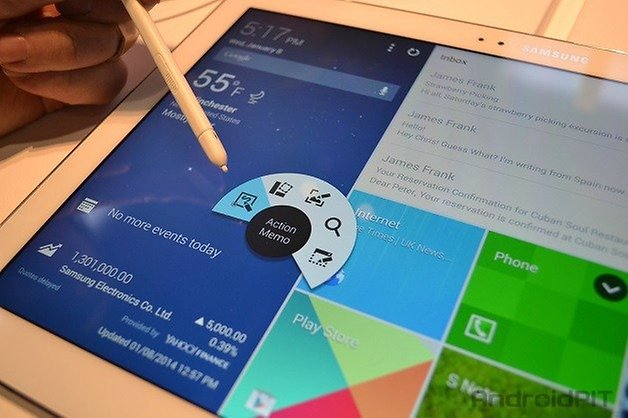 The Note Pro has some new apps for work productivity as well, like WebEx for multi-window conferencing as well as e-Meeting for sharing documents and information while in meetings. It even allows for jotting down ideas on a virtual whiteboard. Some of the other built-in apps, whose availability also depends on the region, are Blurb, DropBox, Evernote, LinkedIn, NY Times and Oxford Advanced Learner's A-Z, to name a few.
Processor
Of course with the fastest processors that you can get, a Snapdragon 800 for the LTE model and the "true octa-core" Exynos 5 5420 for the Wi-Fi version, the Note Pro 12.2 had no stuttering or lagging problems as far as I could tell. Ticking at 2.3 GHz or 1.9 GHz, in respect to the order of processor listed above, and with 3 GB of RAM - the most memory in tablets and smartphones right now - watching movies and playing games optimized for tablets would certainly be a pleasure. This would be the case even if you try overwhelming the tablet with heavy multitasking. Swiping between home screens to the Magazine UX and tapping on each tab to refresh the content all worked swimmingly. Opening up apps did as well. I'm not sure if this is normal, but the only thing that seemed to lag was switching the proportions of the apps while in Multi Window mode.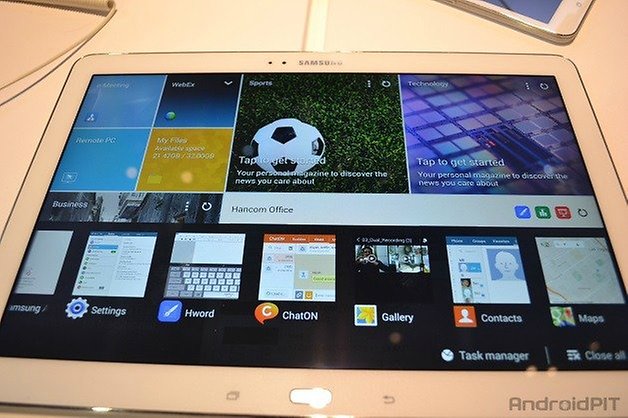 Battery
In my experience, Samsung doesn't have the best reputation for battery life. However I've heard from Note 3 users that theirs does last a while though, so with a battery of 9,500 mAh in the Note Pro, it would be interesting to put it into practice for an entire day of normal usage to see how it stands. For the time being, and until the Note Pro is made available for lengthy testing, we can't really judge the battery at this point in time and can only base ourselves on what Samsung says: it supposedly delivers 10 hours of playback video on one charge, which is more than most Android devices out there.
Camera and Video
These are elements that, again, I wasn't able to test during the CES and would require a bit more time to get a good impression of what it has to offer. In any case, the back camera shoots with 8 MP and comes with an LED flash. As observed with other Galaxy devices, you'll get an entire laundry list of features, like Panorama, HDR, Night and more. The 2 MP front camera is an average tablet resolution. In terms of video footage, the back lens captures video in 1080p and the front in 720p.

Tech Specs
| | |
| --- | --- |
| Display | 12.2-inch Super Clear LCD, 2560x1600 |
| Dimensions and weight | 295.6 x 204 x 7.95 mm, 750 g |
| Internal storage | 32GB/64GB + microSD slot up to 64 GB |
| Memory | 3 GB RAM |
| Processor | Quad-core 1.9 GHz Snapdragon 800 (LTE), quad-core 1.9 GHz Exynos 5420 |
| Battery | 9,500 mAh |
| Cameras | 8 MP + LED (back); 2 MP (front) |
| Connectivity and networks | Wi-Fi, Bluetooth 4.0, microUSB 3.0 port with microUSB 2.0 compatibility, NFC, GPS |
| Operating system and UI | Android 4.4 KitKat with TouchWiz UI |
| Estimated price and availability | Between 1,229 and 1,239 US dollars, available first quarter 2014 |
Final Verdict
The Note Pro 12.2 has all the hardware elements that one would hope for from a high-end tablet, but what makes someone actually purchase it is a matter of taste (for or against Samsung's usual design and huge list of software features) as well as whether you actually need such a huge tablet. The Note Pro 12.2 would be ideal for productivity in a work environment as well as for watching movies and playing games. You can attach it to a Bluetooth keyboard, or use the programmed full keyboard found on board. In the end, we will have to wait for an official US price to know whether it is worth it, the reps at the CES wouldn't even give me an estimate. That being said, retailers in Europe have disclosed two, quite exuberant prices for both models of the Note Pro 12.2: the Wi-Fi model with an Exynos 5 Octa 5420 would cost 900 Euros (around 1,229 USD) and the LTE model with a Snapdragon 800 would cost 1000 Euros (about 1,329 USD) more. Both models, which have 32 GB storage, would go on-contract with a down payment of 360 Euros (about 492 USD). Those are quite hefty prices! It will be available in the first quarter of 2014 so keep your eyes peeled and ears perked for more news.
| | |
| --- | --- |
| PROS | CONS |
| A huge Full HD display | Average camera |
| Supposedly long lasting battery | Presumed hefty price |
| Lots of productvity tools (Multi Window, S Pen, apps like e-Meeting...) | Faux leather (matter of taste) |
What do you think of the Galaxy Note Pro 12.2? Stay tuned for a full hands-on review where we will explore in depth the battery usage, camera quality, as well as discuss price/performance ratio.