Samsung Galaxy S4 Mini Spotted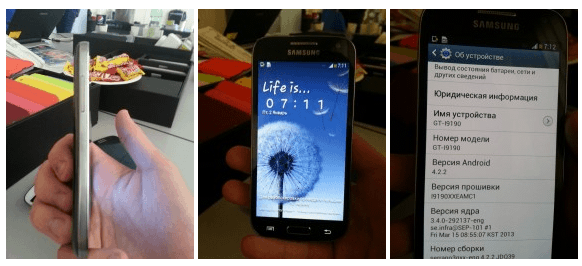 Want to get your hands on all of the software innovation inside the Galaxy S4 but would rather own a smaller version with a smaller price tag? Well, it shouldn't be much of a surprise that Samsung is also planning on releasing a spec-ed down version of their latest and greatest smartphone entry. The Galaxy S4 Mini was recently spotted by the Twitter user "Ermek Kubanychbekov" and it looks, of course, like a miniature version of the Galaxy S4.
Stylistically, the Galaxy S4 Mini looks nearly the same as the Galaxy S4, right down to the back cover and side profiles. On the software side, you can expect Android 4.2.2 Jelly Bean. But when it comes to internals, the Galaxy S4 Mini lacks the oomph of its bigger brother. You can expect a 1.6GHz dual-core CPU with a 4.3-inch qHD (950x540) SuperAMOLED display. Which, come to think of it, really isn't half bad. Amazing how good the lower-end of the smartphone market has become, right?
These oft-cheaper variants are what has made Samsung such a global powerhouse. It may not end up on any top 10 list, but you better believe folks will still want to buy one. Especially, of course, if the price is right.
Check the link below for larger pix.