Galaxy S3 Design: Why Did Samsung Go the Plastic Route AGAIN?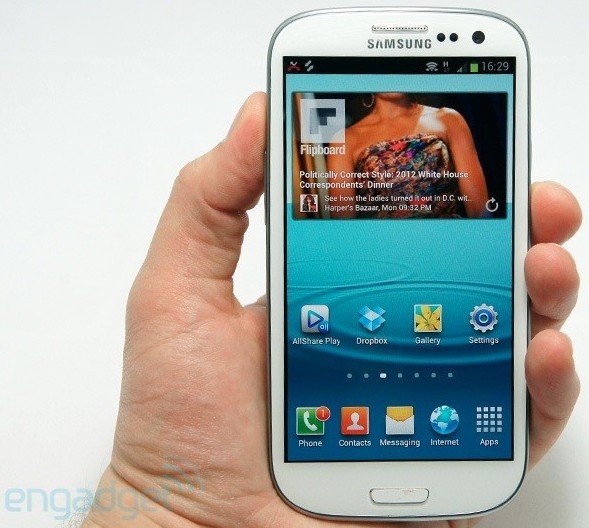 According to those who've played around with the Galaxy S3, the phone feels light as a feather and is slim, sleek and sexy. A reviewer for the Verge even described the Galaxy S3 as "too light," writing that he wished the phone "had more heft." Talk about a first world problem! But there is one design element that almost everyone seems to agree was a bad decision on Samsung's part: the decision to go, yet again, with plastic.
Now I know there are plenty of other things to be diappointed about with the Galaxy S3 launch – like the physical home button – and I really don't want to beat a dead horse here, but Samsung clearly hasn't realized that design, and design materials, matters to consumers. The Galaxy S3 could end up being quite a fast and capable phone (a recent Verge article said that it trounced the HTC One X on GLBenchmark) but it just doesn't look like a high quality device. Instead of actually incorporating brushed aluminum, the phone attempts to simulate the look of this material using...plastic.
Now, Eric and I are arguing about this, but I think at least some folks are going to go with the HTC One X or HTC One S over this device, partially because of the design. Maybe they'll even choose an HTC One S or One X over this phone because they appreciate Sense 4.0 over Touchwiz 4.0. But whatever the case, Samsung's loss is HTC's gain. Eric, of course, diagrees. He thinks the majority of consumers won't care about these design elements and will choose the Galaxy S3 because it's the successor to the insanely popular Galaxy S2. But whatever the case, I still think Samsung is going to miss out on some potential customers with this boring, plasticky design. Especially when compared to HTC's casings, it just looks plain ugly.