 Galaxy S3 Explodes After Being Plugged Into Car Adapter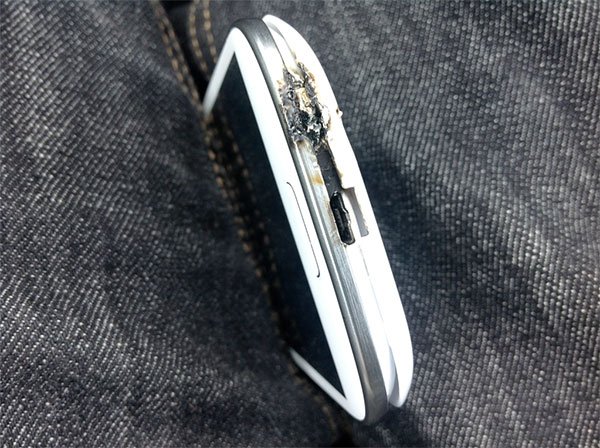 Watch out for exploding Galaxies! An international version of the Galaxy S3 brought a whole new definition to the term "big bang" as it caught fire in someone's car before exploding in a burst of white flames, followed by a banging noise. The dramatic damage can be seen in the picture above. While the screen was saved from destruction, the wireless receiver is no longer operable and the bottom of the phone looks like a tiny plane crashed into it.
This is the first major Galaxy S3 issue we've heard about and it's still unclear whether this was an isolated incident or proof of some sinister manufacturing defect. Thankfully, the phone's plastic didn't land anywhere near the driver and he was still able to safely navigate his car to his destination of choice (which will probably soon be the nearest electronics shop).
Samsung has responded in order quell concern of a global smartphone explosion pandemic, saying "we're aware of this issue and will begin investigating as soon as we receive the specific product in question." Now the question is, how long before Sansung gets hit for copying another Apple feature? Apple to Samsung: "Our smartphones have been exploding for years now, copycats."