 Galaxy S3 Mini Coming On October 11th?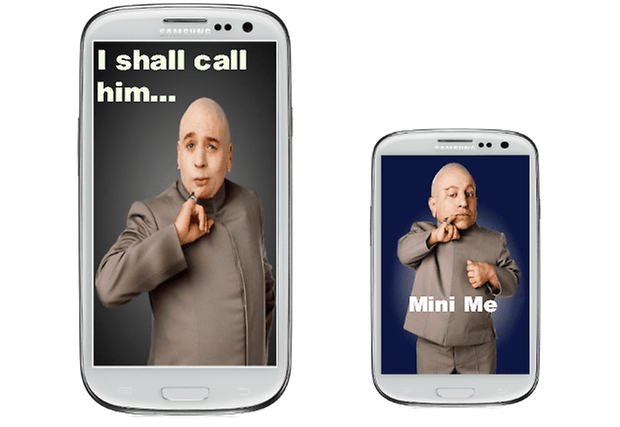 Many consumers enjoy the fact that Android devices can be purchased from multiple companies, in a wide variety of shapes and sizes, and at different price points. Samsung is on a roll lately with their Galaxy series, and the Galaxy S3 and Note 2 have literally taken the mobile industry by storm. We all know that the Galaxy S3 has a 4.8 inch screen, and that the Note 2, which basically looks like a much bigger GS3, has a 5.5 inch screen. But what about those consumers who love the design but wish for a smaller size? That's where the Galaxy S3 Mini comes into play, and it seems that Sammy might just launch it in just 7 days.
Samsung is holding an event in Frankfurt Germany at the Samsung Electronics Mobile Store on October 11th, and is already sending out teasers for its new "small but big" product. According to Know Your Mobile, the phone will naturally have a much smaller screen, a dual core processor, a lower resolution camera, Android Jelly Bean out of the box, and a much cheaper pricetag than the Galaxy S3 or Galaxy Note 2.
While I'm not a fan of "mini" phones, this is actually a pretty smart idea on Samsung's part. While lots of people love the GS3 and Note 2, many complain about the size, with some reporting that using either phone in one hand simply isn't comfortable if you have smaller hands. For others, the prices of these 2 devices are a problem, as they certainly aren't cheap. While the Galaxy S3 mini might not come with the same mega hardware as its 2 big brothers, it certainly could help to counter the above issues, as it would provide a fairly powerful device that looks like a GS3/Note 2 , but with a smaller screen and smaller price tag (and smaller hardware).
Why not? If iPhone users had the option of having the iPhone 5 in 3 different sizes, I doubt that many would be upset about it. I just wonder if the S3 Mini will have a tiny little S-Pen?
Good news is, we only have to wait a week to find out.
What do you guys think? Is an S3 mini a good idea?
Let me know what you think in the comments below!
Picture credits: bluestemprairie.com, copyblogger.com (edited and merged by myself)