Screen Protector Leak Confirms Galaxy S3 Rumors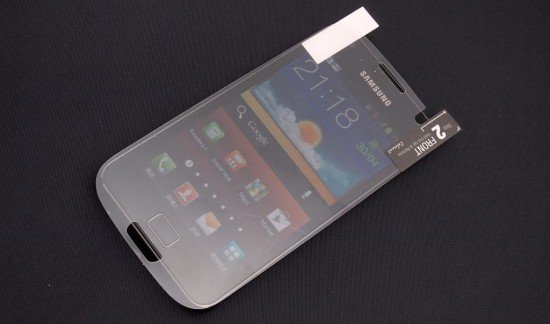 Okay, I know you're sick of all the Galaxy S3 photos, sketches and PR material leaks, but we couldn't help posting one more. The guys over at Unwire HK just got their hands on a screen protector made in Korea specifically for the Galaxy S3. The photo leak gives us a peak at the shape and size of Sammy's newest superphone. It looks like the device will indeed have a physical home button – and that 4.8 inch screen looks quite likely.
The screen protector was created in Japan but "finished" in Korea. Unwire HK tried it on a number of a smartphones and it was too big for the Galaxy Nexus and the Galaxy S2 – confirming it was indeed created for a 4.8-inch screen. In the image above you can see the screen protector on top of the Galaxy S2. It's obviously too big for that device.
That said, it looks like the Galaxy S3 won't be a massive device. It'll still be narrow enough to fit in the palm of your hand.
The Galaxy S3 is launching tomorrow – can you believe it!? – in London. Of course, AndroidPIT is sending our own Fabien Roehlinger to check it out. Will the device blow away expectations or will there be disappointed faces at launch? Stay with AndroidPIT for all the latest Galaxy S3 news!