Samsung Galaxy S3 Gets Refresh With Better Display And 2400mAh Battery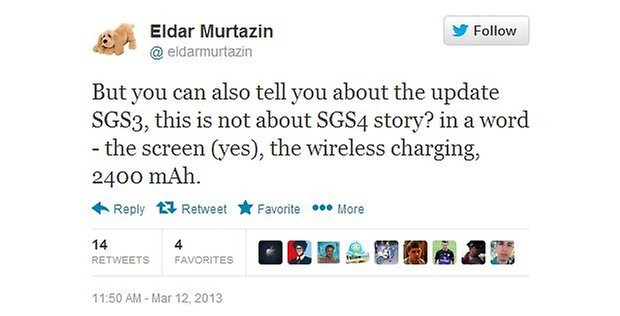 The Samsung Galaxy S3 will soon lose its throne as the flagship smartphone from the Samsung camp in a day's time, what with the Galaxy S4's imminent announcement tomorrow at New York. This does not mean the venerable device is about to be shoved into a box, discarded and all but forgotten. No sir, Eldar Murtazin, generally a reliable informer of tips and leaks, has dropped hints that the Samsung Galaxy S3 still has a few more miles in its legs yet what with a hardware refresh that will most probably involve a better quality display as well as higher capacity battery rated at 2,400mAh.
A 2,400mAh battery would definitely be more than welcome, as it would oust the current 2,100mAh battery on the existing Galaxy S3. After all, assuming Samsung does introduce a higher quality display (could we be looking at Full HD resolution this time around?), it will certainly need to draw more juice, and this is where a higher capacity battery complements the handset perfectly.
Thing is, this is pretty much a massive rumor that you would want to take it with more than the usual pinch of salt. Most of the world's eyes have already been set on the Samsung Galaxy S4, so will anyone else have time for the aging Galaxy S3? Will Samsung even call it that, or decide to throw in a suffix such as Samsung Galaxy S3 Plus?
Do share with us what you think about the possible naming conventions of the refreshed Galaxy S3, if it happens in the first place, that is.