Galaxy S3 vs. iPhone 5: Which Is the Better Smartphone?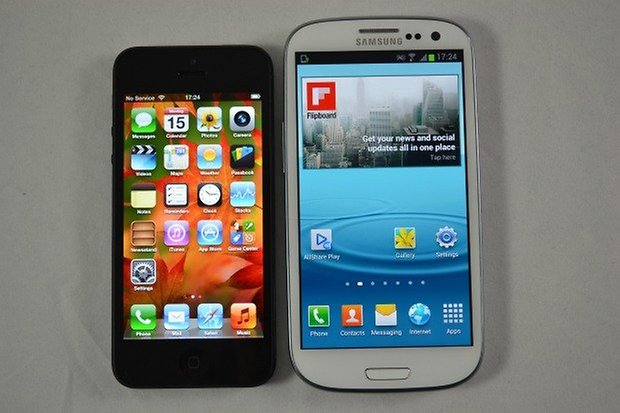 (c) AndroidPIT.com
Galaxy S3 vs. iPhone 5? It's a tough decision...
So, you're on the prowl for a new smartphone. You want something that will last you for at least the next two years, and possibly even longer. Maybe you own an Android but are wondering whether the iPhone 5 might be your next, or maybe you're an iPhone owner unimpressed by the latest offering by Apple and wondering whether you should finally go Android buy a Galaxy S3. Well, whoever you are, you should get something out of the comparison we've written today. While we can't tell you which smartphone to buy, we can help point you in the right direction..
Design
The iPhone 5 is feather light in the hand and dangerously droppable. That said, its negligable weight will be a major plus for the majority of users: never has a flagship model felt this light. Moreover, it's clear the design has been held to the highest of standards, even for Apple. The phone is beautifully constructed with a more robust aluminum back that protects the phone from cracking when dropped, unlike the all-glass iPhone 4S. Even after hard-to-watch five-to-six-foot drops, most iPhone 5 units only have minor dings to their grame.
The Galaxy S3, on the other hand, is made of polycarbonate plastic and is a bit thicker than the iPhone 5 (8.6mm vs. 7.6mm). It feels solid, and has been ergonomically-designed to feel great in the palm of your hand. While it's significantly larger than the iPhone 5, it doesn't necessarily feel larger. In fact, in some respects, it feels much more appropriate to this day and age to have a wider phone with a larger display. But despite having a display made of Gorilla Glass, the Galaxy S3 doesn't drop as well as the iPhone 5.
Because of that, and because of the fact that the iPhone 5 simply has an unbeatable form factor and feels incredibly well-designed, we're going to hand the design award to Apple. I know, big surprise right?
Winner: iPhone 5
Display
The iPhone 5 has a Retina display with 326 PPI and a resolution of 1136x640p. According to Displaymate.com, it's the brightest smartphone ever tested and has the highest contrast rating as well. It's color calibration is second only to the new iPad. But running the phone at the highest brightness level will deplete your battery very, very quickly.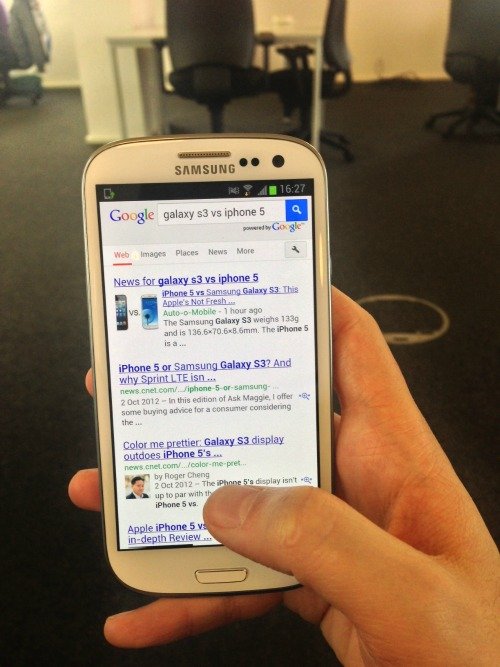 (c) AndroidPIT.com
The Galaxy S3 has a 1280x 720p Super AMOLED display with 306PPI. According to Displaymate.com, it's able to maintain only about half the brightness of the iPhone 5 due to power limits and greens are a bit more staurated than red and blues, which can lead to slightly distorted or exaggerated colors.
In all, it looks like the iPhone 5 wins this round, although its small display size could be a turn-off for some users.
Winner: iPhone 5
Operating System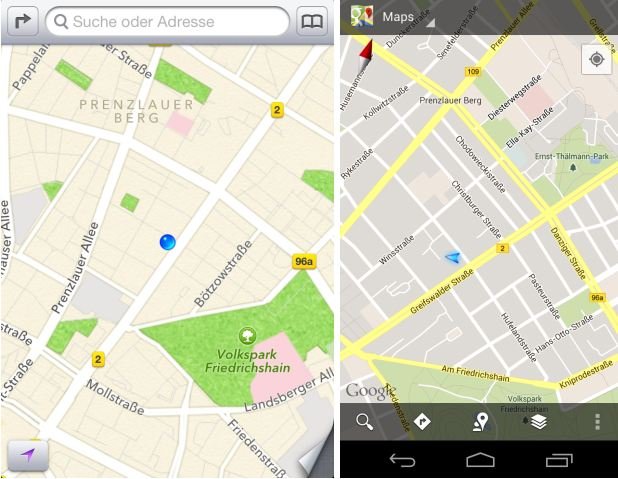 (c) AndroidPIT.com
Ah, the age old debate: Android or iOS? While Apple's OS has had the same homescreen ever since the introduction of the first iPhone, Android owners are spoiled for choice; they can install widgets, live wallpapers and endless numbers of lockscreens. The Galaxy S3 also features NFC technology for sharing content with just a bump of the phone. Photos and media can be shared with any app you've installed, not just Facebook and Twitter like on the iPhone 5. Meanwhile, Google Maps offers a far superior mapping service compared to Apple Maps, Android owners can also install apps outside the Google Play store, wheras Apple owners are locked into a walled ecosystem, and multi-tasking on Android is far easier.
So where does iOS succeed? Well, we like the idea of Passbook – Apple's voucher, plane ticket and coupon organizer. Other than that, there's not a whole lot to recommend.
Winner: Samsung Galaxy S3
App Store
By this point, you really can't call Apple's App Store superior to Google Play. Both have an insane number of apps for sale, both offer a range of both paid and free apps, and both organize their apps along basically the same categories. While you could say that Apple's App Store is more aesthetically pleasing than Google Play, that's a subjective matter. Sometimes they get apps first. But the fact that Android devices can sideload apps from outside the Google Play ecosystem has got to be seen as a big plus. For now, we're going to say it's a tie.
Winner: Tie
Camera
According to tests made by Gizmodo, the Galaxy S3 is much better than the iPhone 5 at taking photos in the dark without a flash (see here for more). That said, it's more of a toss-up when it comes to photos taken during the day. We're more impressed by the color saturation in the iPhone 5's photos: images look crisper and more alive, whereas the Galaxy S3's photos look a bit washed out in comparison. That said, some light sources appear with a purple halo in pictures taken by the iPhone 5, and this problem is essentially unchangeable since it seems to be a problem with the sapphire crystal laid over the iPhone 5's camera lens. We even noticed it when taking photos around the office: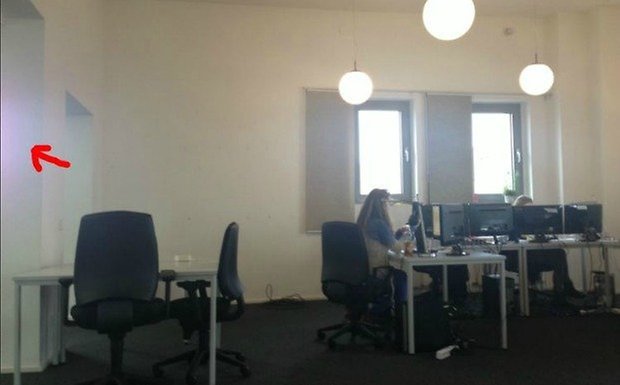 The iPhone 5's purple haze put a damper on our photo fun. (c) AndroidPIT.com
Because of this, and the iPhone 5's problems in low-light settings, we're calling this a tie when it comes to camera performance.
Winner: Tie
Storage and MicroSD
This one is a pretty easy fight. While the Galaxy S3 offers expandable memory up to 64GB, the iPhone 5 offers zilch. So, when it comes to saving lots of photos and music, you're going to need to be careful – or spring for a model with more memory. Samsung also offers more in terms of cloud storage – a special deal with Dropbox snags you 50GB in free cloud storage for three years, while Apple offers 5GB in iCloud storage. Yes, Samsung still makes money by selling models with more GBs to clueless customers, but at least their phones are expandable.
Winner: Galaxy S3
Battery Life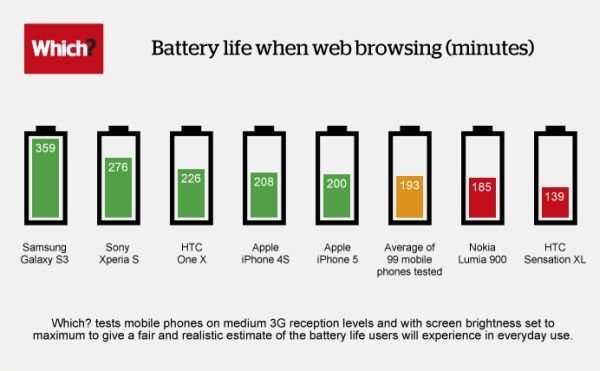 iPhone 5 doesn't even make it into the top 3 smartphones, battery-wise. (c) Which?
In a test by the consumer electonics magazine Which? the Galaxy S3 absolutely clobbered the iPhone 5 when it came to battery life. The magazine is so thorough that they even broadcast their own 3G signal so that all phones start off equally, with no outside elements giving one or the other an edge. When it came to web browsing, the Galaxy S3 beat the iPhone 5 359 minutes to 200 minutes. In other battery tests, the Galaxy S3 outperformed the iPhone 5 by a large magnitude, as well. Apple didn't spend much time during their press conference praising the new iPhone's battery life for a reason: it's just not that impressive.
Winner: Galaxy S3
Summary
It's a debate that will likely continue to dominate the internet through the Christmas shopping season: iPhone 5 or Galaxy S3? While the iPhone 5 appears to have a superior display and design, it offers less abilities to customize, a shortened battery life and fewer storage options. But as to whether or not it's worth your next two years (assuming you're on contract) depends on what you're looking for. Are you head-over-heels for Apple's ecosystem or looking for more customization? Do you want a bigger or a brighter display? These are all questions to seriously consider. In the end, these phones are so vastly different that it's very hard to recommend one over the other. I will say this: as an Android owner who is VERY cynical about claims made by Apple, I was very, very impressed by the form factor, camera and display of the newest iPhone (minus that purple glare). But even considering all that, I wouldn't want to give up Android for iOS. I've seen the light, I guess you could say. But for others, this could be a great big toss-up.