Samsung Galaxy S4 Burst Into Flames While Charging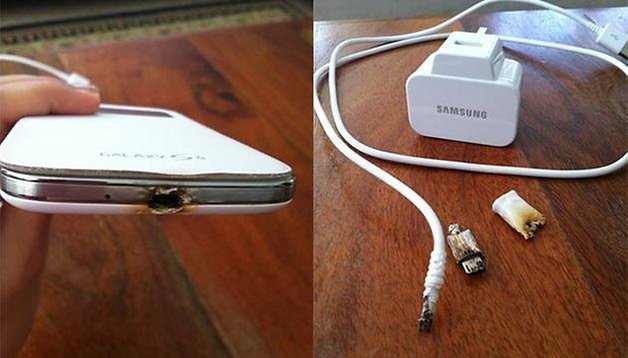 It seems that modern day smartphones are a fire hazard all by themselves - although the number of spontaneously combusting handsets are far and few in between, but cases of exploding phones have been reported in the past, and it looks like the buck will not stop anytime soon. The first reported case of a Samsung Galaxy S4 catching fire has happened in the UAE, but thankfully, no one was injured in the incident.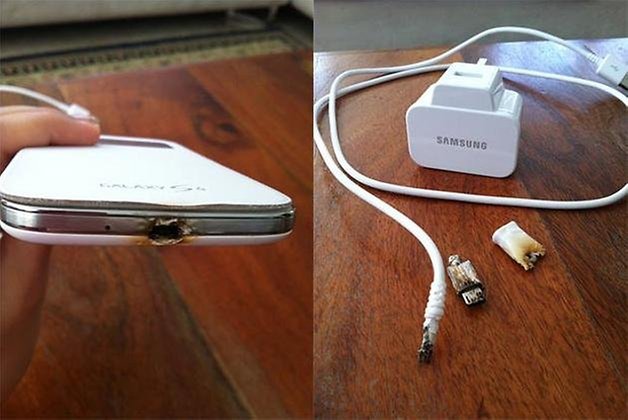 The proud owner of a one month old Samsung Galaxy S4 woke up to the smell of smoke at night, where she left her Galaxy S4 charging overnight. She said, "I cannot explain to you my extreme frustration, disappointment and extreme fear when I found my brand new Samsung Galaxy S4 burning at the charger connection to the phone."
Being based in Abu Dhabi, UAE, Sarah Shurrab then promptly wrote to Samsung about the situation, and attached a fair number of photos (two of which you can view above) that depicted the burnt charging tip as well as the charging port of the flagship device. Sarah's situation was not helped when she went from one dealer to another for a replacement, but all she was offered was a mere repair job, but thankfully, Samsung has decided to "resolve matters amicably" with Sarah after she was in contact with them.
Samsung had agreed to replace the burnt Galaxy S4 with a new unit, in addition to the flip cover which got singed as well, which is contrary to a non-existent compensation policy - but I guess this is the exception rather than the rule. Hopefully this is a one off case, otherwise you might want to think twice about charging your Galaxy S4 overnight after reading this.
Having said that, there has been at least one instance in the past where someone tried to put their phone on fire purposely, but Sarah's case seemed to be a genuine one.