[Video] Galaxy S4 Passes Gruesome Knife Test with Flying Colors The Galaxy S4's body may be made of plastic, but its display is tough as nails.
In this greusome durability test, the Galaxy S4's screen is faced with a number of sharp enemies and withstands their attacks with nary a scratch.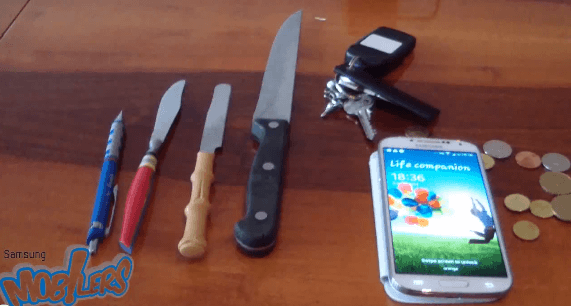 Maybe it's because Sammy's latest and greatest display is the first to make use of Corning's Gorilla Glass 3. The newest version of Corning's chemically-hardened glass made its debut at this year's CES and has shown to be incredibly durable, even after being pummeled by a steel ball.
In the video test below, the Galaxy S4's screen is tested against keys, coins and steak knives. It looks like the Galaxy S4's tough display can hold up against just about any metallic object out there.
Of course, we've yet to see any other tests of durability, but it look like no one should worry about the Galaxy S4's display getting nicked in a pocket full of coins (or knives, or whatever, really). I wonder how well it will hold up after a face-down drop test, though!