Get the Hoth Update for Angry Birds Star Wars Now If you remember (hopefully you do, because otherwise that would suggest you probably have Alzheimers), yesterday I talked about a free update coming to Angry Birds Star Wars which would be available today.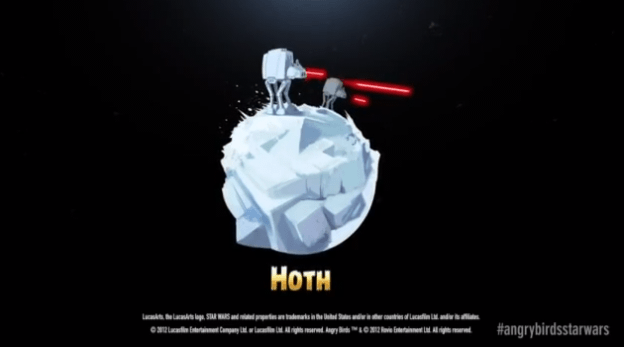 Well, now it's available to download in the Google Play store. It adds a brand new locale, Hoth, and a plethora of new levels to slingshot your way through.
Unfortunately, there was no gameplay footage to show yesterday considering the latest update had yet to launch. Thankfully, Rovio has just released some gameplay footage for everyone.
I played a little bit of the new update myself, and it's pretty much the same tried and true Angry Birds we all know and love. Of course, Hoth is an essential locale for any Star Wars themed title, so it's only natural that it was just added to the latest Angry Birds.
I will admit, I am a little upset that no one has been shoved into a gutted Tauntuan in the new Hoth update, but oh well.
As promised, the pink bird has donned a Princess Leia outfit and also has a new special power. I'm not entirely sure where the idea behind this ability came from, but I digress. The Princess Leia bird can shoot lasers from her eyes in mid-flight.
Yep, you heard me correctly. The Leia bird shoots lasers -Superman style- at the evil little Stormtrooper piggies.
Angry Birds Star Wars Hoth Episode Gameplay
Watch the video above, and if you think the new levels are to your liking then you can get the update via the Google Play store. If you already have Angry Birds installed, then you should receive a notification to update, or it will do so automatically.
May the force be with you.